Curve Ball: How Automakers and Customers Adjust to New-Car Technology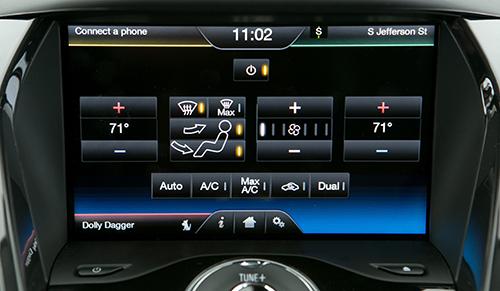 A touch-screen multimedia system may already seem commonplace to some, but to car shoppers who bought their last vehicle five or 10 years ago operating even basic functions could feel like trying to get HAL 9000 to open the pod-bay doors.
With today's fast-advancing technology comes a learning curve to which new-car buyers must adapt. Capacitive-touch and voice-controlled multimedia systems have absorbed familiar climate knobs and audio control buttons. Automakers know there's a knowledge gap and are taking measures to ease the transition. Ford and GM are two of the companies working to shorten the learning curve — even for someone whose last car had crank windows. The next time you buy a car, prepare for some on-site training before you drive it off the lot.
General Motors announced last week that it would double to 50 the size of its Connected Customer Specialists team. The "Geek Squad" of "young, tech-savvy employees" trains dealers and customers on using the Chevrolet MyLink multimedia system and OnStar.
Recently, Ford launched a help site at www.fordowner.com that allows customers to select features in a specific vehicle and watch instructional videos; the automaker reported that it expects to have 150 videos available by summer.
In some cases, tech training starts before buyers ever set foot inside a dealership. Say, for example, you own a 2008 Cadillac DTS, which doesn't have a multimedia system, and you're interested in purchasing a 2013 Cadillac XTS equipped with the Cadillac User Experience system. You can download the CUE app to your iPad and use the tutorials. Then, upon purchasing your XTS, the dealer will walk you through using the multimedia system. Questions inevitably will arise once you've left the dealership, some of which you might not be able to resolve alone. You can either return to the dealer or call the dedicated CUE help line, 855-428-3669.
"Infotainment has certainly added a new element to that training, but is now incorporated in the curriculum," said Fred Ligouri, GM spokesman. "But beyond that there are resources available to both dealer personnel and owners alike, most notably in the way of our Connected Customer Specialists."
Similarly, when a Ford customer is considering a purchase, dealers will begin to familiarize them with tech features, sometimes even pairing their smartphones with the automaker's voice-controlled communications and entertainment system, Sync, explained Elizabeth Weigandt, Ford dealer communications manager. Ford also has dedicated tech specialists tasked with training dealers and customers. But because customers are often too eager to get their new vehicle out on the road to sit through a tutorial, the automaker offers Sync My Ride, a roughly hourlong session scheduled for a later date at the dealership.
Multimedia systems vary by automaker, ranging from intuitive and user-friendly to confusing and temperamental. Cars.com reviewers have noted the unusual ease of use of the capacitive controls on the 2013 Toyota Avalon's multimedia system; meanwhile, the MyFord Touch system has been the source of much criticism for a reported lack of reliability, delayed response time and overall difficulty.
Ford is working to improve the user experience, however. No specific figures were available, but Weigandt said the amount of time spent on dealer and customer training has certainly increased with the amount of tech features in today's cars, particularly as Ford expands its commitment to the "consumer-experience movement," which seeks to make buyers feel more in control during the sales process.
And while no automaker has rolled out a Genius Bar akin to what you find at an Apple Store, that may not be too far off in the future.
[Editor's note: The name of the Cadillac DeVille was changed in this post on March 14 to correctly reflect the name of the vehicle at that time, DTS; 2005 was the last year the DeVille name was used.]
Related

Chevrolet Announces MyLink Entertainment System
Ford Paying Dealers to Teach MyFord Touch Tech
Cadillac Shows Off New Multimedia System, Interiors