Farewell Acura ZDX: Many Gawked, Few Purchased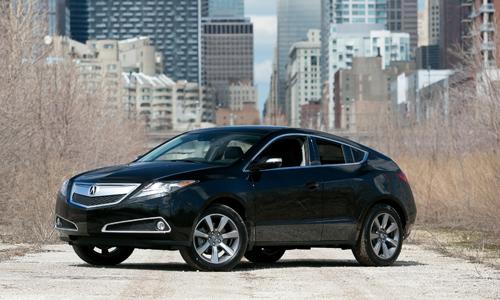 Depending on whom you ask,
Acura's ZDX
is either ugly (with an F) or sexy. One fact that isn't up for debate, however, is that the swoopy crossover is a total sales dud and model-year 2013 is its last.
With its high price, tiny backseat and dismal visibility, it's tough to understand the ZDX's appeal, but it's been in Acura's lineup since 2010 — so someone's been buying it. Which begs the question: Who would choose the ZDX over the more comfortable and less expensive MDX, on which it's based?
Turns out, not very many people. Few consumers were charmed enough by the ZDX to open up their wallets to the tune of $51,815, especially when the MDX starts at $44,175 and tops out at $53,800 (all prices include destination). The MDX also offers more passenger space and loads more cargo room — 83.5 cubic feet to the ZDX's 57.3.
Last month, Acura sold just 25 ZDXs, not much more than the 56 it sold last February. Sales have been bleak for a while: Throughout all of 2012, Acura moved just 775 ZDXs off dealer lots, a stark comparison to the 50,854 MDXs sold last year.
According to Acura spokesman Chuck Schifsky, the ZDX's intended audience was quite different than the group who actually ended up purchasing it. Schifsky told us that the ZDX was initially aimed at baby boomers and "mature" buyers, but a larger number of Generation X, pre-family shoppers were more attracted to it. "These younger buyers picked the ZDX because they wanted a vehicle that was unique and different from the average sedan, CUV or SUV," he said.
More importantly, the car turned heads. "One of the overriding reasons buyers noted as the motivation for buying the ZDX was its unique styling," he said. According to Schifsky, although the ZDX wasn't a strong seller, it was successful in attracting new shoppers to dealerships.
Alas, this quirky vehicle's moment in the spotlight is over. "The timing is keyed to our efforts to refine the product lineup around the Acura brand direction with a focus on flagship and core models. We are also introducing a number of new products and full model changes of existing vehicles to better fulfill Acura buyers' needs," Schifsky said.
Up next for Acura is the new RLX sedan, which went on sale last week, and the 2014 Acura MDX, which will hit dealerships later this year.
Related
Research the 2013 Acura ZDX
2013 Acura ZDX: What's Changed
More Acura News on Cars.com