Lamborghini Veneno: First Look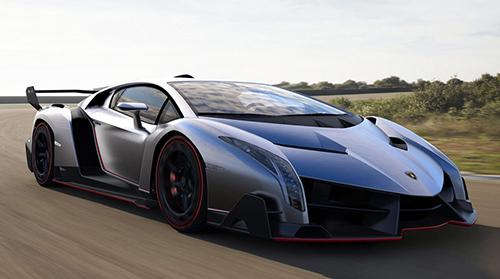 Competes with: Ferrari LaFerrari (giggle), Bugatti Veyron, a Malibu beach house
Looks like: A 21st century take on the Lamborghini Countach, with some jet fighter thrown in
Drivetrain: 6.5-liter V-12 making 750 hp; seven-speed single-clutch manual transmission; all-wheel drive
Hits dealerships: Never - only three are being made and all are already sold
MSRP: $3.9 million
Lamborghini is throwing a 50th birthday party and to celebrate it has created this, the extremely limited-edition Lamborghini Veneno. Based loosely on the Aventador platform, the Veneno is tuned up to 750 horsepower and features unique and extensively carbon-fiber-based bodywork.
More 2013 Geneva Motor Show Coverage
Most notable is a vertical ridge running from the roof to the rear wing, which meshes into the familiar Lamborghini Y-shaped taillamps. The side view reveals some classic Lamborghini styling cues, such as the asymmetrical wheel openings that harken back to the Marcello Gandini-designed original Countach from 1974 and the traditional Lamborghini-style scissor doors. Plenty of modern touches are included as well, like the LED running lights and carbon-fiber turbine rings on the wheels that scoop in additional air for brake cooling.
Sitting behind the cockpit is a tuned 6.5-liter V-12 from the Aventador that's mated to a seven-speed single-clutch gearbox. Weight is kept in check through extensive use of carbon fiber for the entire structure, exterior panels as well as throughout the interior, using a new kind of resin-impregnated carbon-fiber fabric for everything inside the car — even the headliner covering. The result is the Veneno tips the scales at just 3,190 pounds, or less than a loaded Dodge Dart compact, making it capable of zero to 60 mph in just 2.8 seconds. Top speed is rated at a staggering 220 mph. As with most of Lamborghini's other supercars, this one is also named for a famous fighting bull. The Veneno is named after one of the fastest fighting bulls ever, which earned its reputation by goring and killing a matador way back in 1914. The Lamborghini of the same name promises to be equally brutal.
The car on display at the Geneva Motor Show is "Number 0," a prototype test model in a metallic gray. Lamborghini plans on making only three examples of the Veneno, one in each color of the Italian flag, and reports that all three are already presold. At the equivalent of $3.9 million each, there wasn't likely to be a huge line at the door to begin with.
Editor's note: Marcello Gandini's name was misspelled in the original version of this story. It has been corrected.