Living Through Winter With a 2013 Subaru BRZ
One of the biggest questions we wanted to answer by purchasing a long-term 2013 Subaru BRZ tester was whether the sports coupe is capable of driving year-round in winter's ugliest conditions. Our Chicago test location has potential for nasty wintry weather that could have been disastrous for our dainty 2,776-pound, rear-wheel-drive, low-slung BRZ Limited.

A normal winter didn't happen, however, and the BRZ faced just a few bursts of extreme weather. But it showed promise as a year-round daily driver given the right preparation and conditions.

Read More About Our Long-Term Subaru BRZ

Our first preparation for winter happened long before we even took delivery of the car. As co-winner of Cars.com's Best of 2013 award along with the 2013 Scion FR-S, we planned to purchase one of the two and put it through a yearlong evaluation. Deciding between the two was an easy choice given our cold climate: The BRZ has available heated seats, the Scion doesn't. Done; BRZ ordered.
In practice, the BRZ Limited's heated seats with high and low settings for driver and passenger aren't bun burners like some heated seats — even on high they take a while to warm up. Still, they get the job done and are better than nothing on a cold, icy morning. Heated side mirrors are also a part of the $27,495 (without destination) Limited trim level we purchased — $2,000 more than the base BRZ Premium.

Post-purchase, we quickly swapped out the stock summer tires for Blizzak WS70 winter rollers — $777.60, including installation — that proved essential for navigating cold and snow-covered roads. Local plows and salt trucks kept the roads clear most of the time, so we never had to drive the BRZ through snow much deeper than an inch or two. Sized in the stock 215/45/17 measurements, the already skinny tires cut through snow extremely well and gave the car confidence and grip in light snow and slush.

"Changing lanes in the BRZ was a breeze during a snowstorm with near whiteout conditions," says Cars.com Editor Joe Bruzek. "The car didn't flinch when rolling over slush mounds that accumulate between lanes."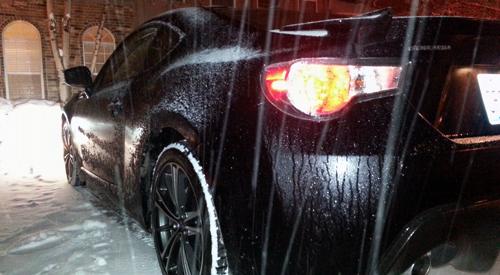 On dry roads the tires proved less awesome with a tendency to induce side-to-side wandering where the car doesn't track straight. The winter tires also have less grip than the stock tires. Dealing with wheel spin became frequent when the roads weren't covered in snow. A quick-acting stability and traction control system plus predictable dynamics made dealing with an errant BRZ easy in slippery or dry conditions.

"What I liked about it was that it was predictable," says Cars.com Senior Editor William Jackson. "Just as you feel connected to the road when you're driving fast in perfect weather, you feel connected to what's going on in bad weather."

Aside from the winter tires, WeatherTech's FloorLiner floormats were another necessary purchase to keep winter salt and crud from ruining the BRZ's carpet — they cost $126.45, including shipping. Like our previous long-term Chevrolet Volt and Nissan Leaf test cars, we plan to sell the BRZ once we're done. The factory floormats didn't hold up well to constant in-and-out use by Cars.com's editors and multimedia teams. The rubberlike material of the WeatherTech mats for driver and front passenger footwells have fared much better and cover a huge portion of the carpet while keeping snow, salt and debris contained.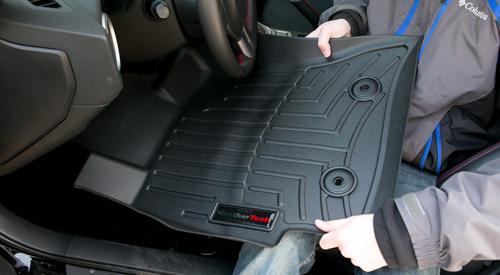 Floormats and winter tires were all we had to purchase to live with a rear-wheel-drive sports coupe in a mild winter. Though lightweight, additional weight in the trunk over the rear tires wasn't needed to get through the slippery road conditions we encountered.

Cars.com Managing Editor David Thomas drove hundreds of miles on the winter tires in cold weather to Detroit and around Chicago.

"I would say buyers shouldn't be concerned about the capability of the BRZ. However, if you don't live near or use roads that are regularly plowed you may be in trouble," says Thomas.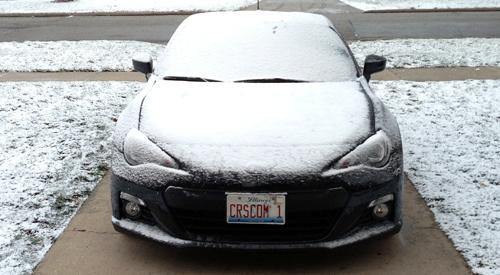 While the BRZ performed great in the flat lands of Chicago, some editors purposely avoided steep driveways or entrances in the rear-wheel-drive BRZ. We wouldn't hesitate to drive the BRZ through another winter in the Chicago area, however.

Related
Quarterly Ownership Cost of Cars.com's Subaru BRZ
Our BRZ's First Casualty: Factory Floormats
Our 2013 Subaru BRZ Gets Winter Tires