Toyota Camry Discounts Remain Amid February Sales Drop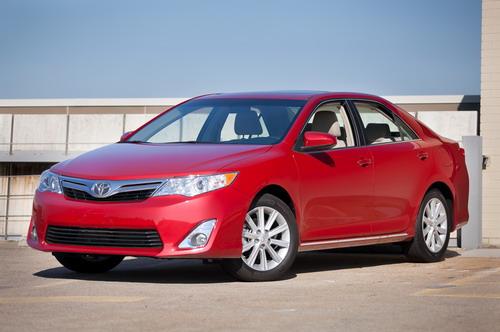 Toyota is staying the course on incentives to keep its popular Camry atop the family-car sales pile. The automaker sold 31,270 Camry sedans in February, marking the nameplate's 16th consecutive month as the No. 1 family sedan. But the lead was narrowing. Camry sales dropped 9.5% versus February 2012 as the Nissan Altima, Honda Accord and Ford Fusion fell within 4,000 sales of Toyota's popular sedan. One or two competitors have come closer at certain points in recent months, but it's rare that so many are hot on the Camry's tail. Indeed, the Camry accounted for 18.4% of all new family-car sales in January 2013; in February, that portion fell to 16.1%.
Toyota appears intent on keeping the sedan's best-selling status — but it will have to fight for it. Nissan CEO Carlos Ghosn told reporters at the 2012 New York International Auto Show that he wants the Altima to "take a shot at being No. 1 in the segment."
"We know it's a competitive segment," spokesman Mike Michels told Bloomberg News on Wednesday. "All three of those makes are very high profile in their marketing, and all three companies want to make an impact with consumers."
Toward that end, Toyota has its foot on the gas — or the cruise control, as it were — with incentives.
Camry owner Jimmy Drew, a utilities planner in Del Ray Beach, Fla., told us in January he saw zero-percent financing deals on new Camry sedans at the time. That's better than the 1.9% rate he nabbed on his 2012 Camry SE when "they weren't offering the specials at all."
Those deals have spread to the 2013 model year. In February, Toyota rolled out interest-free financing for up to 60 months for the 2013 Camry, excluding the Camry Hybrid. That's well below the industry average, which Bankrate.com pegs at 2.65% for a 48-month new car loan. The offer extends through April 1.
It beats the Honda Accord's current financing offers — 0.9% to 1.9% — but other competitors have cash discounts, on which Toyota has yet to pull the lever. Nissan offers up to $1,000 on top of discount financing on the 2013 Altima sedan, while Ford offers discount financing or $1,500 on the non-hybrid 2013 Fusion. The Chevrolet Malibu and Hyundai Sonata also have cash discounts. And Chrysler is shoveling money (up to $3,000) off the 200 sedan and its Dodge Avenger sibling. Check with your dealer for regional specifics; our figures come from a national survey of multiple regions.
But the competition is driving the discounts. It's rare to see a mainstay segment get so many redesigns in such a short period: Between September 2011 and October 2012, six nameplates representing 71.1% of all 2013 family-car sales hit showrooms with redesigned models. Analysts told us in January the competition was causing an incentives bloom as redesigns overlapped sell downs of outgoing cars. That may have subsided. J.D. Power & Associates says incentives for a midsize family car averaged $2,507 in February, down from $2,900 a year earlier.
In the end, the Camry's tenure at the top will depend on its strengths — particularly a reputation for comfort and durability that's kept it America's best-selling car (excluding pickups) since 2001. Is it at risk? The Camry placed fourth in Cars.com's $26,000 Midsize Sedan Showdown, and it failed an Insurance Institute for Highway Safety small-overlap frontal crash test; the Accord sedan aced it. By contrast, however, first-year reliability figures for Toyota's seventh-generation family sedan have been excellent.
Through February, Toyota has sold 63,167 Camrys. The second-place Accord is 11,244 cars behind — but it's still early in the year.
Related
Cars.com $26,000 Midsize Sedan Shootout
Why Family Cars Dominated 2012
More Automotive News