2014 Honda Odyssey: Up Close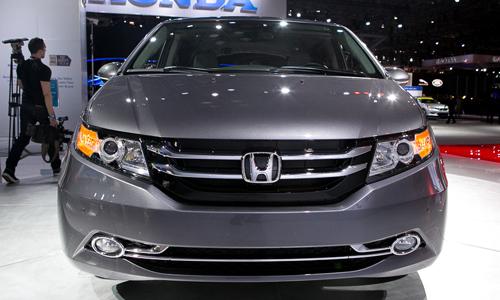 One of the most popular family-hauling vehicles in the land has been given a freshening and shown to the world at the 2013 New York International Auto Show. The 2014 Honda Odyssey minivan gets a mild interior and exterior update, and the automaker brought its top trim level, the Touring Elite, to the show.
More 2013 New York Auto Show Coverage
Up front, the new Odyssey receives a relatively mild update, with new headlights, a twin-bar grille, a more sculpted hood (now made out of aluminum) and chrome-trimmed fog lights. Out back, new LED taillights and badges complete the list of styling updates. The overall impact is minor, with only true minivan aficionados likely to notice the changes.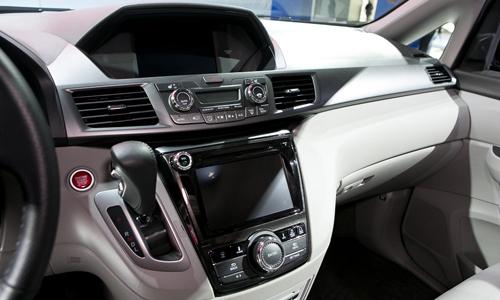 Inside things are similarly quiet. A new center stack is present, featuring HondaLink cloud-based infotainment options, and some new driver assist technologies are now available such as forward collision warning and lane departure warning. Despite the updates to brighten and fancy up the interior, there is still more hard plastic than there should be for a van this expensive, mostly on the instrument panel.
But the big news with the 2014 Odyssey is all the way in the back cargo area, behind the rearmost third-row seats. Honda has created an industry-first: a built-in vacuum cleaner called HondaVac, developed in conjunction with ShopVac and standard on the Touring Elite trim level. It truly is a novel feature. Completely enclosed into a rear cargo panel, the vacuum features a removable canister and expandable hose with attachments. Honda says it is able to reach any corner of the van, even all the way up front. It is easily as powerful as a hand-held unit, and can run continuously when the vehicle is on or for eight minutes after the van has been shut off.
Cars.com's testing found the system to be completely effective in cleaning up things like cereal that had been ground into the rear cargo area carpet or Peanut M&Ms scattered throughout the van. Honda says that it does not recommend using the vacuum for wet spills, as it could mean liquids would stay in the stored hose system.
The HondaVac system is the first real minivan innovation that has come along in quite some time, something that Chrysler used to be tops at before that company started focusing on fighting for its life. Introducing such a novel feature could be the first step in reigniting the hotly contested family minivan wars.