Volkswagen Golf Variant: First Look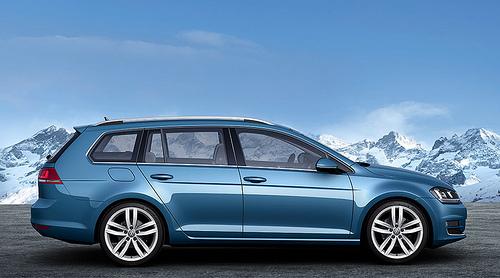 Competes with: Subaru Impreza, Ford Focus hatchback, Hyundai Elantra GT, Mazda3
Looks like: A new, practical small wagon without much style
Drivetrain: Likely turbocharged 1.8-liter and turbocharged 2.0-liter four-cylinder gas engines; turbocharged 2.0-liter four-cylinder diesel engine
Hits dealerships: August in Europe, TBD for U.S.
This is an actual new station wagon from a major automaker. As wagons start to disappear from the automotive landscape, Volkswagen announced today it will release one based on the all-new Golf compact hatchback that goes on sale later this year.
We don't know when this wagon version will hit dealerships or even what it will be called, but we do know that it is similar to the current VW Jetta SportWagen in size.
This Golf retains the clean, simple ... OK, boring look of recent VWs like the Jetta and Passat, but VW buyers have responded to those vehicles in big ways.
At 179.6 inches long, the Golf Variant — as it is currently called — is just a hair longer than the 2013 Jetta Sportswagen at 179.4 inches.
U.S. on-sale dates and specific engines haven't been released at this time, but we have learned that the wagon will likely be powered by the same engines as the 2014 Golf, which goes on sale later this year.
Those engine options haven't been formally announced by the automaker. The company leads us to believe that the two new turbocharged engines, a 1.8-liter and 2.0-liter, will be available in all Golf versions as well as a new version of the turbocharged 2.0-liter diesel engine.
Interior volume also hasn't been released, but the cargo floor can be adjusted for height, which is unusual. It also appears from the pictures that the rear seats fold to create a flat, expanded cargo area.
We hope to have more details on the Golf Variant's price, and maybe a formal name, in the near future.