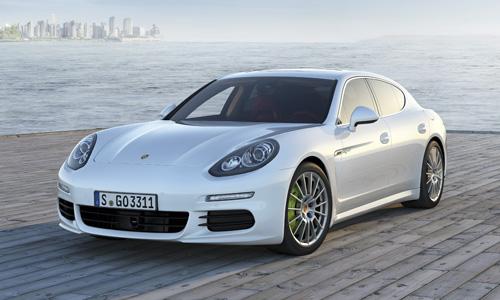 Competes with: Audi S8, Mercedes-Benz S65 AMG, BMW Alpina B7, Fisker Karma
Looks like: A longer, even more awkward version of last year's Panamera
Drivetrain: 3.6-liter V-6, 3.0-liter bi-turbo V-6, 4.8-liter V-8 or plug-in hybrid; seven-speed PDK automatic or eight-speed Tiptronic automatic transmissions
Hits dealerships: Late 2013; Turbo models in early 2014
MSRP: $79,075-$162,075, including destination fee
Porsche is updating its controversial Panamera sedan for 2014, giving it some slightly revised front and rear styling and adding a few new models — the total number of offered trims is now nine. Joining the lineup is a new plug-in hybrid, called the Panamera S E-Hybrid, replacing 2013's conventional hybrid sedan. Joining the plug-in Porsche are two new extended-wheelbase models, which stretch the car a full 5.9 inches between the wheels, affording rear-seat passengers a considerable bump in legroom.
The base Panamera and Panamera 4 (all-wheel drive) are largely unchanged aside from the updated styling, which now features the option of LED headlights. Both use the 3.6-liter naturally aspirated V-6 making 310 horsepower and 295 pounds-feet of torque. Stepping up from there is the Panamera S and 4S, which replace last year's 4.8-liter V-8 with a new 3.0-liter twin-turbo V-6 making 20 more horsepower than the outgoing motor; they're now rated at 420 hp and 384 pounds-feet of torque. Slotting above the S is the S E-Hybrid, featuring a combination of a 3.0-liter naturally aspirated V-6 and a 95-hp electric motor. Porsche puts total system horsepower at 416 and 435 pounds-feet of torque, but that torque arrives at a super-low 1,250 rpm, meaning the Hybrid is nearly as fast to 60 mph as the normal S model and faster than the base Panamera by nearly 0.8 seconds.
The Panamera GTS comes next, wearing the Turbo's bodywork but the 4S' engine, followed by the Turbo all-wheel-drive model that features a 4.8-liter turbocharged V-8 good for a whopping 520 hp and 516 pounds-feet of torque. All models use Porsche's PDK twin-clutch automatic transmission except the E-Hybrid, which sticks with the company's eight-speed Tiptronic automatic.
The E-Hybrid is Porsche's first plug-in model and features some significant changes over the previous Panamera Hybrid. The electric portion of the drivetrain is now twice as powerful, producing 95 hp, and draws from a much bigger 9.4-kwh lithium-ion battery. Porsche says that when connected to a 240-volt charger, the E-Hybrid recharges in just 2.5 hours.
The car can operate in electric-only mode for up to 20 miles, depending on driving conditions, style, weather and terrain. Top speed in electric mode is limited to 84 mph and rises to 167 mph in combined hybrid mode. A new smartphone app will be available to allow E-Hybrid owners to monitor the vehicle remotely, as most manufacturers with plug-in electric vehicles have. No EPA fuel economy figures are available for the E-Hybrid. Sure to cause more controversy, however, is the arrival of a new extended wheelbase model, dubbed the Executive. The extra length will be available in two models, the Panamera 4S Executive and the Turbo Executive, with those two models' different powertrains. The stretch adds 5.9 inches to the wheelbase, all of it seemingly coming in the back seat. Given the new Panamera's planned debut at this month's Shanghai Motor Show, it is a virtual certainty that the Executive model is aimed squarely at the Chinese market, where being driven in such an expensive luxury vehicle is far more common for owners than driving one.
The new 2014 models will be available at the end of this year, with the exception of the Turbo models, which will go on sale early next year.
Related
Research the Porsche Panamera
More Porsche News on Cars.com
More Luxury Car News on Cars.com