2014 Subaru Forester: Car Seat Check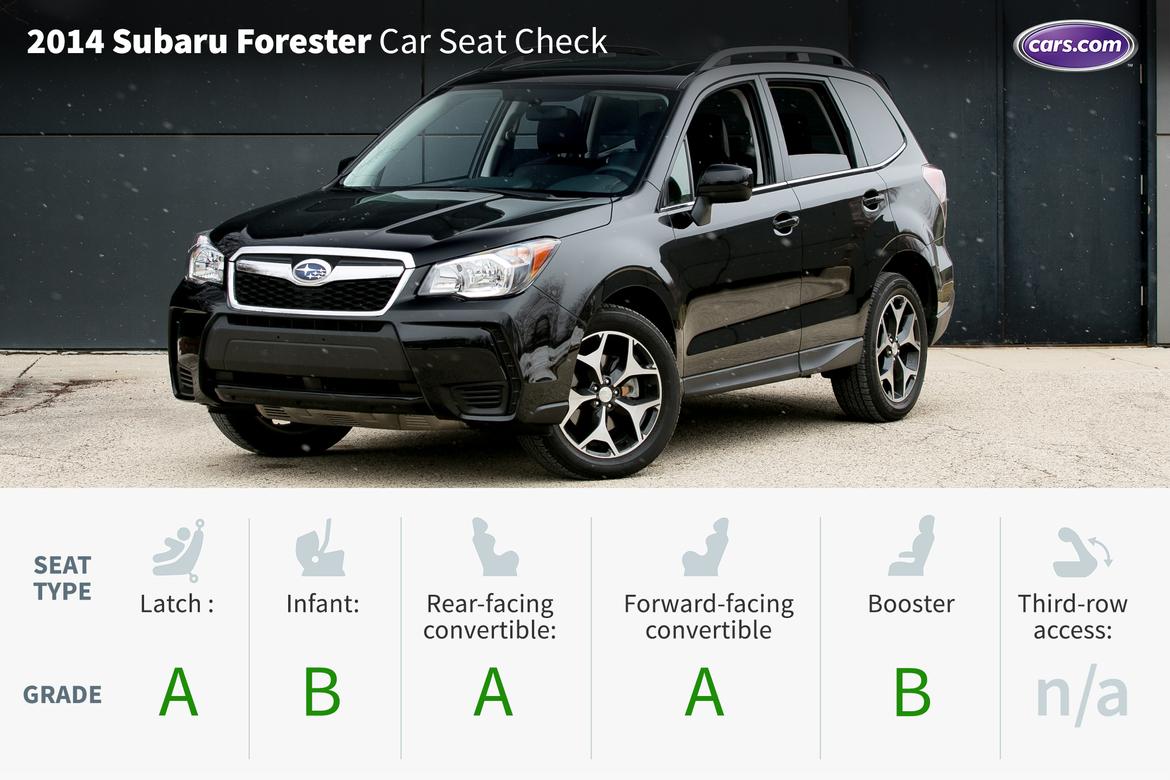 Subaru redesigned its Forester crossover for the 2014 model year. The Forester's interior remains roomy, with a backseat that can easily accommodate rear-facing child-safety seats.
For the Car Seat Check, we use a Graco SnugRide 30 rear-facing infant-safety seat, a Britax Roundabout convertible child-safety seat and Graco high-back TurboBooster seat.
The front seats are adjusted to a comfortable position for a 6-foot driver and a 5-foot-8 passenger. The three child seats are installed in the second row. The booster seat sits behind the driver's seat, and the infant seat and convertible seats are installed behind the passenger seat. We also install the convertible seat in the second row's middle seat with the booster and infant seat in the outboard seats to see if three car seats will fit. If there's a third row, we install the booster seat and a forward-facing convertible.
Here's how the 2014 Forester did in Cars.com's Car Seat Check:
2014 Subaru Forester; Cars.com photos by Evan Sears
Latch system: There are two sets of lower Latch anchors in the Forester's outboard seats. The anchors are easy to access, thanks to fold-down Velcroed flaps that cover the Latch anchors. Three tether anchors are found midway down the seatbacks. They're also easy to use with lots of clearance around the anchor.
Booster seat: This high-back booster seat fit well in the Forester's second row. There's no need to remove the head restraint to accommodate the car seat. The seat belt buckles are recessed into the bottom seat cushion, which can make it difficult for kids to buckle up independently.
Convertible seat: Both the forward- and rear-facing convertibles fit easily in the Forester. The front passenger didn't have to move the seat forward to accommodate the rear convertible in the backseat.
Infant-safety seat: To fit this car seat, we moved the front passenger seat forward an inch or so, which hampered our tester's comfort. Shorter passengers should have no problems, though. The rear-facing infant seat was easy to install in the Forester.
How many car seats fit in the second row? Two
Editor's note: For three car seats — infant-safety seat, convertible and booster seats — to fit in a car, our criterion is that a child sitting in the booster seat must be able to reach the seat belt buckle. Parents should also remember that they can use the Latch system or a seat belt to install a car seat.
Editor's note: This post was updated on April 4 to reflect a change in the 2014 Forester's rear legroom.