Does Honda's LaneWatch Replace a Blind Spot Warning System?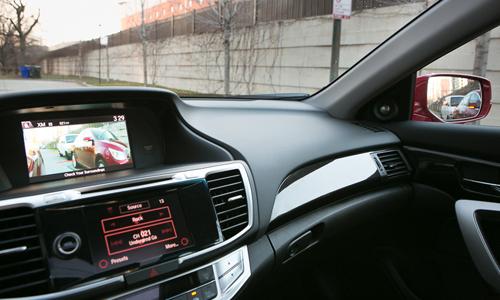 I recently spent a week in the
2013 Honda Crosstour
. While I couldn't get over the aesthetics of this oddball (a fellow mom said it looked like a reincarnated Pinto), it did prove to be a practical family car with some innovative features.
The Crosstour has a new Honda safety feature called LaneWatch, which is also found on the 2013 Accord. According to Honda, the system "uses a camera positioned below the passenger-side exterior mirror to display a wide-angle view of the passenger side roadway on the intelligent-Multi-Information Display. The image appears when the right turn signal is activated, or when a button on the end of the turn-signal stalk is pressed."
I was a little baffled as to why LaneWatch was not integrated with a blind spot warning system, which can alert the driver with a tone or light if someone is in the car's blind spots. The two seem like a natural pair, but if they're not paired together, is LaneWatch a replacement for blind spot warning?
I found LaneWatch useful while changing lanes on the highway. I could see if a ginormous semitrailer was approaching too quickly or if a small motorcycle was tucked away in a blind spot. It also was helpful on city streets, especially at stop signs. I had stopped the Crosstour at a stop sign and signaled a right turn when the image of an approaching bicyclist appeared on the i-MID screen. He was preparing to turn without stopping. LaneWatch kept me from turning into his space and bumping him off his bike.
I appreciated this feature so much that I found myself wishing for LaneWatch's added assistance on the left side, as well. Of course, it wouldn't be as much help for the car's left side as I look to my left to scan my blind spot. While Honda included an expanded-view driver-side mirror to increase visibility on the Crosstour, I was left wanting more. How about a tiny screen within the driver's side A-pillar, Honda?
While the Crosstour and Accord both can have LaneWatch, neither has an optional blind spot warning system. The system is available on the Honda Odyssey Touring Elite as well as the Acura MDX, TL and the RLX; it's standard on the ZDX. However, none of these models offer LaneWatch.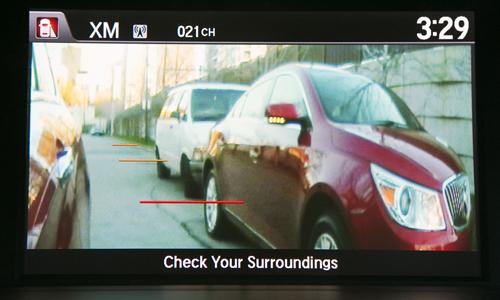 After living with LaneWatch for a week, I've decided that it isn't a replacement for a blind spot warning system. While Honda cannot comment specifically on which models may get LaneWatch in the future, Honda spokesman Chris Martin said, "It is possible (... likely) that it may make its way into more models later."
Let's hope it makes its way onto models like the Honda Pilot and Odyssey. Both of these larger vehicles would benefit from a combination of LaneWatch and a blind spot warning system.
Have you tried LaneWatch? If so, how helpful a feature do you find it to be? Tell us in the comment section below.
Related
Research the 2013 Honda Crosstour
What Does This Button Do?
More Family News