GM Expects EPA to Rate 2014 Chevrolet Cruze Diesel at 27/46 MPG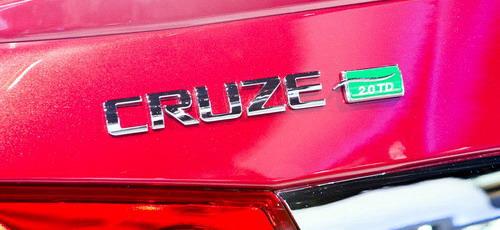 GM said today the 2014 Chevrolet Cruze diesel will get an EPA rating of 27/46 mpg city/highway with its standard six-speed automatic transmission. The highway rating represents the highest of any non-hybrid car in the U.S., GM says, but the EPA's combined rating — 33 mpg — is just 2 mpg better than a gas-powered Cruze Eco with its automatic. It also falls 1 mpg short of the diesel-powered Volkswagen Jetta TDI with its six-speed auto.
The Cruze diesel's turbo-diesel 2.0-liter four-cylinder makes 148 horsepower and, typical of diesels, a prodigious 258 pounds-feet of torque. An overboost mode can crank out as much as 280 pounds-feet for short bursts. GM says the car hits 60 mph in 8.6 seconds, which beats the Jetta TDI's 8.7-second rating by a smidge.
With either car, however, you'll have to contend with the higher cost of diesel fuel, which has averaged 38 cents, or 10%, higher than regular unleaded over the past 12 months, according to the Energy Information Administration. With 12,000 miles a year at the EPA's combined rating, annual fuel costs in the Cruze diesel would run $1,446. That's about even with a gasoline Cruze LT or LTZ automatic and $44 cheaper than an automatic Toyota Corolla. It's more, however, than conventional (i.e., not high-efficiency) automatic versions of the Jetta TDI, Ford Focus, Honda Civic and Hyundai Elantra by $43 to $96 a year.
The diesel version of Chevrolet's popular compact goes on sale in select cities this spring, with a national rollout this fall.
Related
2014 Chevrolet Cruze Diesel at the 2013 Chicago Auto Show
2014 Chevrolet Cruze Diesel Video
More Diesel News