Guidelines Aim to Decrease Distractions of Multimedia Systems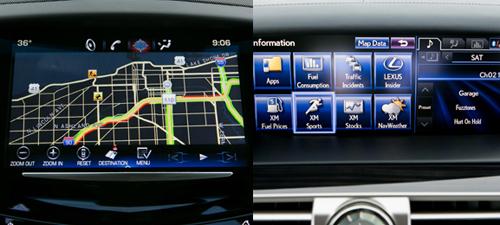 In a press briefing today, Transportation Secretary Ray LaHood characterized his four-plus-year campaign against distracted driving as a "crusade." The latest weapon in the government's fight is a set of voluntary guidelines for automakers designed to limit the distraction risks of in-vehicle multimedia systems.
First announced last year
, the Department of Transportation and the National Highway Traffic Safety Administration finalized the guidelines today.
LaHood told reporters that it's not just cellphones that are distracting to drivers; in-vehicle multimedia systems and their ability to play videos, connect to the internet and send text messages pull focus away from the road. The guidelines announced today are designed to limit the systems' distraction risk by establishing recommended criteria for how long tasks should take drivers.
According to the DOT, drivers should only take their eyes off the road to operate a multimedia system for two seconds at a time and 12 seconds total for one task. They also shouldn't read more than 30 characters of text (not counting punctuation marks) during a single task. It also recommends that each device's active display be located as close as possible to the driver's forward line of sight.
The government's guidelines also call for disabling several operations unless the vehicle is stopped and in Park. They include:
Manual text entry for the purposes of text messaging and internet browsing
Video-based entertainment and communications like video phoning or video conferencing
Display of certain types of text, including text messages, web pages and social media content
Many current systems are already disabled when the car is in motion; others still work in a limited capacity up to a few miles per hour. As for navigation systems, NHTSA says static maps are OK, but the amount of time it takes the driver to extract information should be minimized. Maps should "not have unnecessary complexity [i.e., photorealistic images, satellite images and three-dimensional images are not recommended] that may cause too much distraction," the guidelines state.
As of now, the DOT and NHTSA stress that the guidelines are not mandatory Federal Motor Vehicle Safety Standards, rather automakers have three years to voluntarily comply with them. LaHood said that 83 groups including university researchers, automakers and safety advocacy groups contributed to the guidelines and as of now, they only affect passenger vehicles.
As for how automakers will respond to the guidelines, NHTSA administrator David Strickland said that many automakers have already started making progress with limiting the distraction risks of their multimedia systems. He cites as examples systems that are disabled when the vehicle is in motion and the increase of voice-command systems so eyes stay on the road and hands stay on the wheel.
Related
NHTSA Sees No Decline in Distracted Driving
Feds Propose Distracted-Driving Guidelines to Automakers
More Safety News