Handpresso Brings Espresso Making to Your Cupholder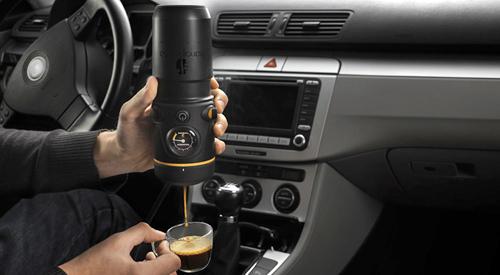 The Fiat 500L's optional portable espresso machine may not come to the states, but come May 1 those with coffee-on-the-go on the mind will have a new option from French espresso maker Handpresso.
Like the Fiat's optional espresso machine developed by Lavazza, Handpresso's Auto is a self-contained espresso machine designed for cupholders. The Handpresso Auto sources power from a car's DC outlet and pressurizes a mix of water and an individual espresso packet. When the pressurization and heating is done, the Auto container is flipped over to dispense the heated espresso.
If the little voice inside your head isn't saying, "This sounds like a bad idea," then you may want to see if the little guy or girl has passed out after a four-day caffeine bender. Handpresso warns folks not to use the Auto while driving; it recommends drivers put the car in park or pull off the road to operate. Considering it's a pressurized container dispensing hot liquids, we couldn't agree more.
The Handpresso Auto retails for $199 with initial availability at www.wholelattelove.com.

Related
Fiat Gets Caffeinated
Fiat Goes Big-ish With 500L
More Fiat News