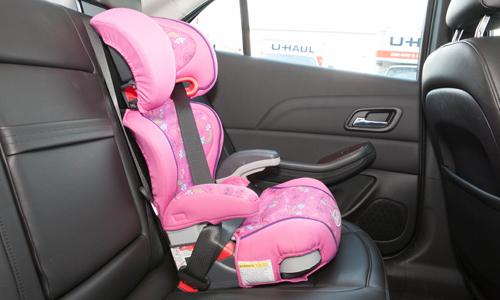 Keeping your kids in car seats and booster seats until they're the right size and age can be a struggle for many parents. In my circle of friends and family, as soon as kids reach 8 years old they start pressuring their caregivers to let them ride without a booster seat.
Case in point: My 8-year-old nephew was riding in my car just the other week when one of my daughters ratted him out for placing his booster on the floor. He said he doesn't need a booster seat because he's 8 now. I let him know that my car doesn't care how old he is; he's just not tall enough to ride without one yet.
According to the National Highway Traffic Safety Administration, more families are starting to get it right.
"The 2011 National Survey of the Use of Booster Seats (NSUBS) reports that the number of children ages four to seven riding in only seat belts, instead of car seats and boosters, dropped 7 percent in 2011 to 25 percent, down from 32 percent in 2009. Meanwhile, the use of both car seats and booster seats increased during the same period, suggesting that parents are increasingly following NHTSA recommendations and not graduating their children prematurely to seat belts," NHTSA said in a statement.
This same survey found that up to 91% of kids younger than 13 are using some type of child safety restraint. That's big news considering that in 2011, 12,200 children were saved by being properly restrained with car seats and seatbelts in car crashes.
If that's not enough motivation to stay strong, stop the car and require all passengers to be properly restrained regardless of their clever and cunning diversionary tactics, I don't know what is.
Related
New NHTSA Website Helps Parents Choose Right Seat
Child-Safety Seat Use Drops As Kids Age
NHTSA Recommends Kids Stay in Car Seats, Boosters Longer