Review Update: 2013 Ford Taurus Four-Cylinder EcoBoost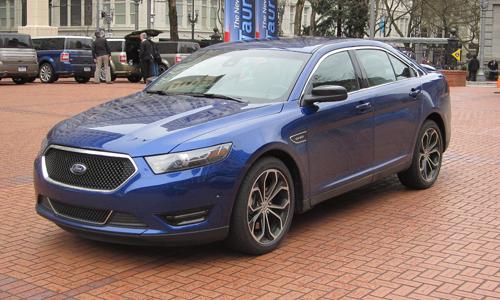 Ford's full-size Taurus sedan has a cramped front seat and an exasperating multimedia system, but there's also a lot to like about the Taurus, and the list just got a little longer. The Taurus has a comfortable ride and cavernous trunk, and the new-for-2013 turbocharged 2.0-liter four-cylinder version offers impressive power and class-leading fuel economy.
As a class, sales of large sedans are falling, with the midsize sedan segment picking up shares. The Taurus, however, is going strong, with sales up 30.5% so far this year. Last year, Cars.com reviewer Kelsey Mays reviewed two V-6 versions of the Taurus, and he recently tested the newly introduced EcoBoost four-cylinder model. Mays thinks the new model will help keep sales strong.
"The four-cylinder allows the Taurus to top other full-size cars in gas mileage, excluding mild or full hybrids like the 2014 Chevrolet Impala eAssist or Toyota Avalon Hybrid, and it makes no deal-breaking sacrifices in the process," he said.
Click below for the updated review covering all the powertrains.