Study: Economy on the Upswing Means Traffic is Too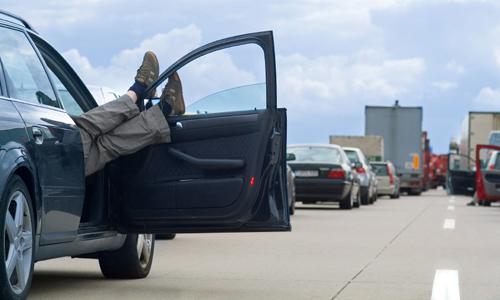 The good news is the economy is climbing out of the pit of recession; the bad news is all those people driving to work are clogging the roads. According to a new study by traffic intelligence agency INRIX, drivers in and around major cities are spending 6.8% more time on the road this year compared to last year.
The agency studies traffic patterns in the top 100 most populated metropolitan areas using a data archive of public and private sources to track traffic flow and gridlock rates. According to its Gridlock Index, traffic in these areas increased by nearly 10% in February — the biggest year-over-year increase during the past two years.
It cites a recovering economy as one of the main reasons for more crowded roads. The index tracks the trend across many major cities and found these results from February 2012 to February 2013:
Gridlock in Chicago increased more than 20%.
Gridlock in Phoenix increased by almost 19%.
Gridlock in New York increased by almost 18%.
Traffic congestion in Houston increased more than 10%.
"Traffic is a great indicator of confidence on the ground. People hit the road as they return to work, and businesses ship more freight as their orders increase. IGI (INRIX Gridlock Index) shows the pulse of the economy is starting to beat faster," Bryan Mistele, CEO of INRIX, said in a statement.
Related
Drivers Dashing for Cash Create Traffic Jam
Ford Developing Traffic Jam Fighter
Can Honda Prevent Traffic Jams?