Top 10 Best-Selling Cars: March 2013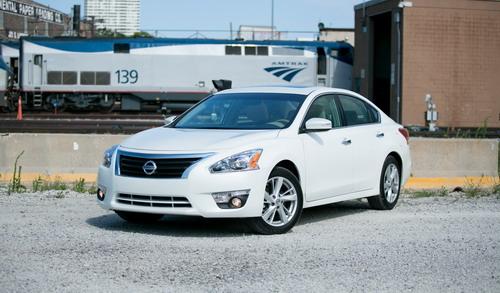 With the top seven automakers reporting numbers — which account for the vast majority of new-car sales — March sales have crept up around 3.2% over year-ago levels. Honda, GM and Ford saw the largest gains, but no major automaker saw a double-digit increase.
The top sellers are a reshuffle from February's list; all 10 are back. The Nissan Altima jumped three spots from February, and despite an 8% sales drop, it's the best-selling sedan by just 100 cars in March. Madness? Not really. Look back at March 2012 and the Altima even beat out the Chevrolet Silverado for a podium finish in monthly sales.
Lower year-over-year incentives played against Nissan's redesigned sedan as surging competitors — the Honda Accord and the Ford Fusion — saw larger gains. Ford says the Fusion had its best sales month in the nameplate's 7 1/2-year history, and this happened with fewer incentives than on last year's outgoing model. The Escape hit its highest monthly total in its 12-plus-year history. Those two cars — and rising Explorer and F-Series sales — overcame falling Focus, Edge and Mustang sales to drive Ford to a 5.7% year-over-year increase.
Not to be left behind, GM saw double-digit sales gains in its Buick, Cadillac and GMC divisions; they drove GM to a 6.4% increase. "Trucks have improved in lockstep with the housing market," GM sales chief Kurt McNeil said in a company statement. Indeed, February housing starts (the latest month reported) were the second-best since mid-2008. GM noted that sales of all cars to small-business buyers — another segment tied to housing — increased 32%. And sales of the automaker's Chevy Silverado and
GMC Sierra
pickups rose 6% despite both trucks being long in the tooth ahead of
their 2014 redesigns
.
If that's how well an old truck does, how about a new one? Chrysler had the answer. Sales of the revamped 2013 Ram pickup rose 25.5% versus March 2012, despite much less cash on the hood. Deals be damned; Ram buyers lined up to pay full price for a truck whose 1500 variant just won the coveted North American Truck of the Year award.
Combined incentives from automakers and dealers actually rose in March, with total incentives up to $5,467 per car — 14.4% off the total average MSRP, in fact, which represents the steepest percentage discounts in 11 months, according to CNW Marketing Research. Still, rising MSRPs edged transaction prices ever higher; the average car in March sold for $32,524.
Last month's fastest sellers weren't always the highest sellers. Nissan slashed pricing for its Leaf electric car, and March represented the first full month of sales for the 2013 model. Each 2013 Leaf stayed at Nissan dealers on average just seven days — well under the 48-day average for all 2013s and 2014s — and sales rocketed 286.2%. Lincoln's MKZ, on the other hand, sat on dealer lots for an average of just 14 days. But Lincoln moved just 2,360 of them in March, down 19.5% versus March 2012.
Here are March's top 10 sellers: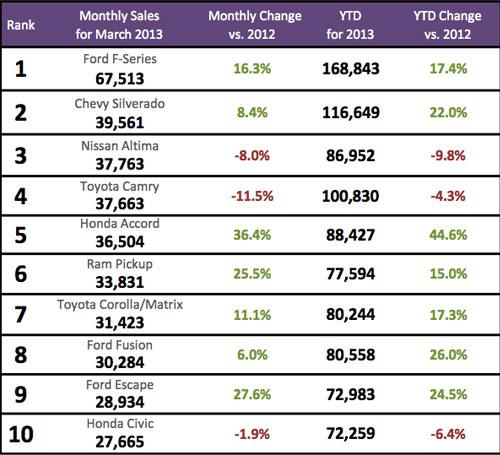 Related
Top 10 Best-Selling Cars: February 2013
March's Fastest- and Slowest-Selling Cars
More Automotive News