What Do These Buttons Do?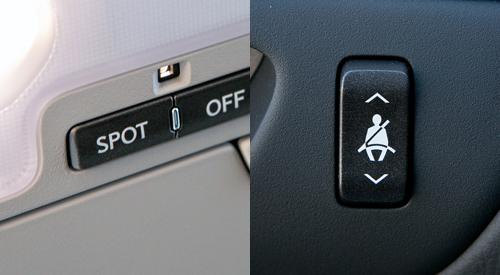 The 2013 Lexus LS 600h L is a lengthy name for a car with a lengthy list of premium features and a hefty price tag: $120,805 (including destination). It's no surprise a few worthy mysterious buttons appeared in this ultra-luxurious sedan. Among its lavish features are a command center in the backseat for the reclining and massaging seats, power sunshades and various remotes for the entertainment and massage functions.
Despite the the numerous backseat features, the more curious buttons appeared up front. A "Spot" button is an interesting choice on a $100,000-plus luxury sedan. See Spot run. See Spot wearing a doggie diaper if ever allowed in the Lexus. Button No. 2 looks straight out of a James Bond movie; it could pass as an ejector seat used on whoever allowed Spot in the car without a doggie diaper.
The gimmick's up: There really isn't a dog-centric feature in the LS 600h L. Spot refers to the overhead lighting. Spotlights shine a focused beam toward the driver and passengers. Rear passengers have their own spotlights and can change the brightness through a dial on each individual light. The rear spotlights could be useful for executive decisions made on the LS 600's retractable wood-trimmed console table.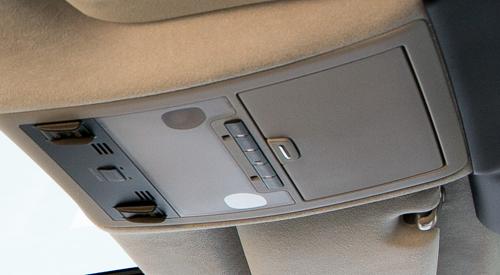 Relax front-seat passengers. There's also no ejector seat. The second button raises and lowers a seat belt anchor on the B-pillar so drivers of various heights can find a comfortable and safe belt position. Many cars offer the anchor adjustment manually, though few add power operation like the LS 600h L.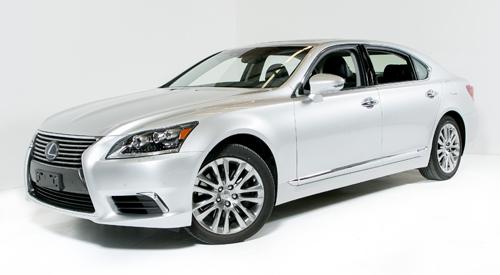 Related
More Buttons Demystified on Cars.com
More Lexus LS News
Research the 2013 Lexus LS 600h L