2013 Audi S6: Car Seat Check
A performance variant of the Audi A6, the 2013 S6 adds sportiness and power to the German automaker's midsize sedan. Though the S6 technically has seating capacity for five passengers, a large floor hump in the backseat makes the middle seating position nearly unusable.
How many car seats fit in the second row?
Two
What We Like
If we could give out a Best Latch Anchor Design award, it'd likely go to Audi. The sedan's Latch anchors sit under removable plastic covers and are a cinch to use.
The S6's rear outboard seats have extra-long bottom seat cushions, making it easy to install bulky child-safety seats.
The rear seats are heavily sculpted, but they don't interfere with a high-back booster seat's fit.
While we had to move the front-passenger seat forward to fit both rear-facing child-safety seats behind it, our tester still had enough legroom to sit comfortably.
What We Don't
While the rear seat belt buckles are on stable bases, they're recessed in the bottom seat cushion, which can make them difficult for younger kids to use.
The S6's tether anchors, which are located under hinged plastic covers on the rear shelf, were difficult to connect to because our tether hook barely fit into the bracket.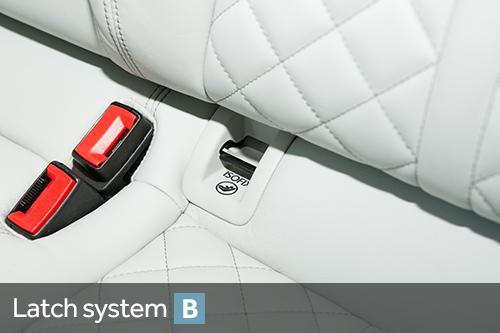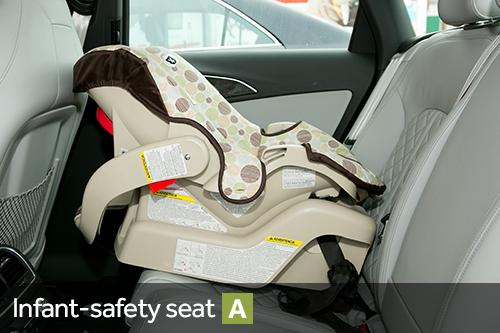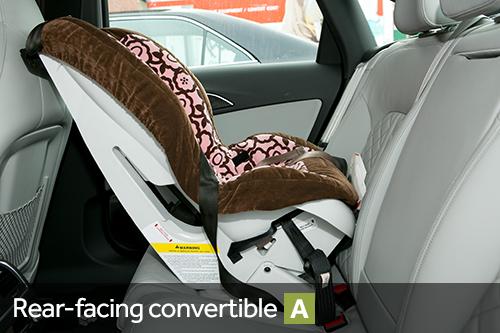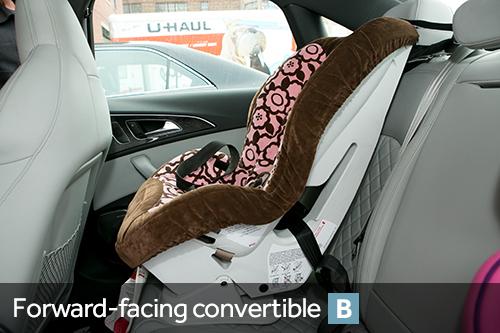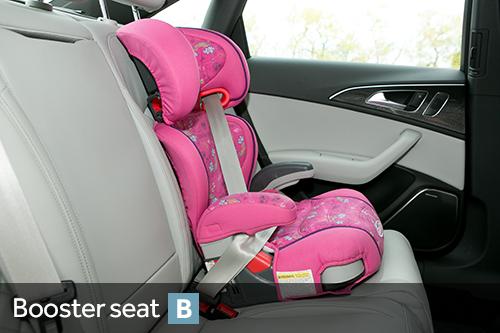 A: Plenty of room for the car seat and the child; doesn't impact driver or front-passenger legroom. Easy to find and connect to Latch and tether anchors. No fit issues involving head restraint or seat contouring. Easy access to the third row.
B: Plenty of room. One fit or connection issue. Some problems accessing third row.
C: Marginal room. Two fit or connection issues. Difficult to access third row.
D: Insufficient room. Two or more fit or connection issues.
F: Does not fit or is unsafe.
About Cars.com's Car Seat Checks
Editors Jennifer Geiger and Jennifer Newman are certified child-safety-seat installation technicians.
For the Car Seat Check, we use a Graco SnugRide 30 infant-safety seat, a Britax Roundabout convertible seat and Graco TurboBooster seat. The front seats are adjusted for a 6-foot driver and a 5-foot-8 passenger. The three child seats are installed in the second row. The booster seat sits behind the driver's seat, and the infant and convertible seats are installed behind the front passenger seat.
We also install the forward-facing convertible in the second row's middle seat with the booster and infant seat in the outboard seats to see if three car seats will fit; a child sitting in the booster seat must be able to reach the seat belt buckle. If there's a third row, we install the booster seat and a forward-facing convertible.
Parents should also remember that they can use the Latch system or a seat belt to install a car seat.
Related
Research the 2013 Audi S6
2013 Audi S6: Photo Gallery
More Car Seat Checks