2013 Hyundai Genesis: Family Checklist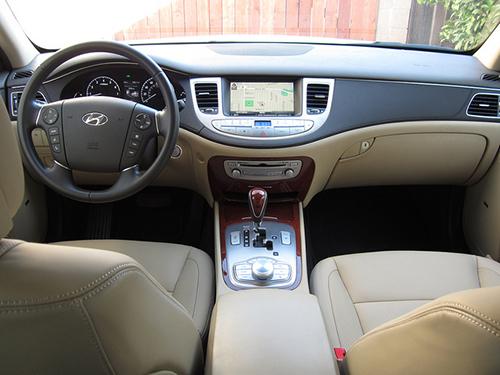 Although I have a small family of three, I've become enchanted by full-size sedans that are undeniably cushy, luxuriously equipped and good looking to boot. Some of these sedans have even made driving to the grocery store a quick retreat, but the 2013 Hyundai Genesis just made me feel like I was borrowing Grandma's car.
I can't pick on the Genesis too much because it's slated to get a needed makeover soon. In the Genesis' defense, some of the bells and whistles are still there; they just don't look quite as modern. However, the Genesis offers a smooth ride, large backseat and cavernous trunk that could appeal to some families in its current design.
My family was comfortable inside the Genesis. The backseat is large and could fit two child-safety seats easily. If your children have graduated out of car seats, the rear seat could realistically fit three passengers. I liked that my mother felt just as comfortable riding in the backseat as my daughter in her forward-facing convertible did. Speaking of child-safety seats, even rear-facing car seats will leave plenty of legroom for your front passenger.
Further adding to the Genesis' comfort factor were the buttery leather seats, air-conditioning vents in the rear and all the personal space the cabin's interior afforded.
However, the ride was too soft for my tastes; I prefer a firmer feeling behind the wheel, but most will find that the Genesis handles just as smoothly as most luxury brand competitors. The 333-horsepower, 3.8-liter V-6 engine on my test car has ample power too.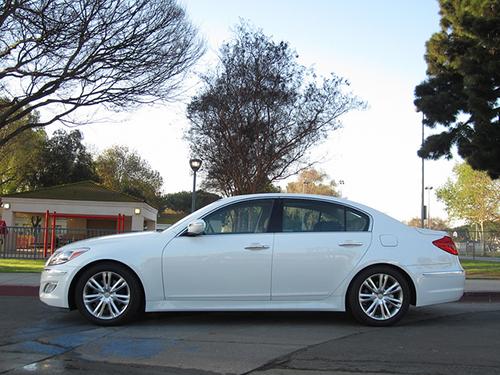 As a design aficionado, I'm not enamored with the Genesis' exterior as much as I am with Hyundai's redesigned full-size Azera and midsize Sonata, but as a parent, I have to admit that the Genesis' conservative styling greatly improved its visibility. The high belt lines and sloping rooflines of many Hyundai cars seem to create a blind spot for me, but it wasn't an issue in the Genesis.
The trunk has plenty of space for all the gear that families haul. I was pleased to find that I could stow my stroller toward the back of the 15.9-cubic-foot trunk and still have plenty of room to accommodate a full-blown grocery-shopping excursion.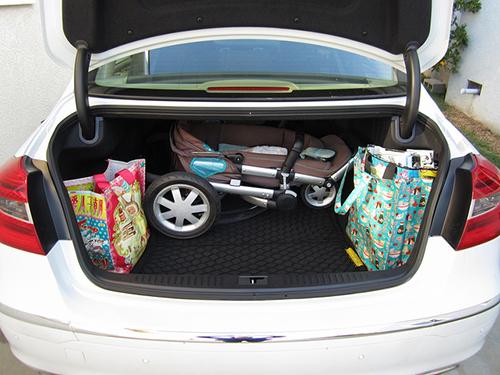 When it comes down to it, the Genesis is a capable, comfortable contender for families. But my test car's as-tested price of $44,210 is a lot to ask of most families, especially when it lacks many features such as blind spot warning or better smartphone integration. Perhaps that's coming for 2014, but when the Azera offers many of the same features, is almost the same size and has a lower starting price, it's hard to endorse the Genesis as a smarter choice.
Related
Research the 2013 Hyundai Genesis
Hyundai HCD-14 Genesis Concept at the 2013 Detroit Auto Show
More Family News