Bigger Than Average: Check Out This Owner's Manual
Pop quiz: What weighs 5 pounds, is twice as long as the King James Bible and can be yours for about $51,000? It is indeed a special book, but you won't find it at any rare bookstore: It's the owner's manual for the 2013 Lexus RX 350 F Sport.
A recent sampling of Lexus' latest take on a sporty crossover (comfortable, well appointed, attractive, but with artificially heavy "sport" steering and throttle response that's far too aggressive) revealed a surprise when I opened the glove box. Inside was the most massive owner's manual I've ever seen, taking up nearly half of the available space. Stuffed into a leather protective jacket are the owner's manual, navigation system manual, lemon law guide and a "quick start" booklet.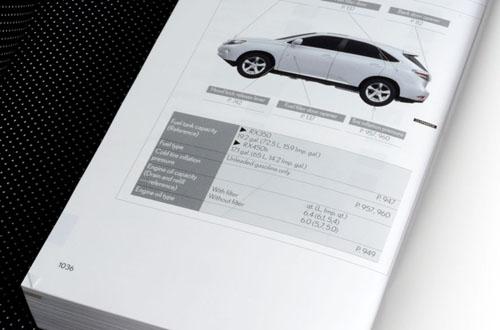 In total, it's more than 3.5 inches thick. It's so heavy that I had to weigh it in segments, as my kitchen scale goes to only 4 pounds (the manual weighs nearly 6 pounds with the leather protector). The owner's manual portion is more than 1,000 pages and doesn't include the navigation system manual — that's another 435-page instructional tome. Even the "quick start" guide, meant to help you learn to operate your RX quickly, is more than 100 pages long.
To Lexus' credit, and as you can see from the photos, should you decide to remove the owner's manual from the car and store it somewhere else (perhaps a dedicated self-storage locker), the divider in the glove compartment meant to secure the manual is actually removable. This leads to a much more spacious glove compartment that can hold more than just a pair of gloves, but now you need to find someplace to store the insert rack as well.
Needless to say, I won't be reading the manual anytime soon; it's a longer piece of work than Tolstoy's War and Peace and only slightly less exciting. Think you've got a bigger owner's manual in your car? Let us know below.
Related
Research the 2013 Lexus RX 350
Hyundai Equus Buyers No Longer Get iPad Manual
More Automotive News