SUV's GPS Device Helped Capture Boston Bombing Suspects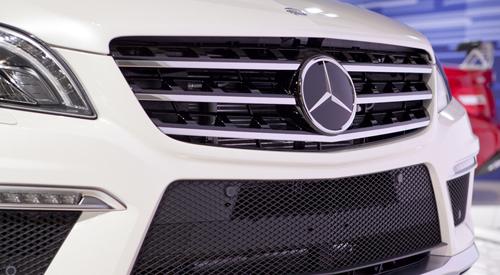 Late in the evening on April 18, Boston marathon bombing suspects Tamerlan and Dzhokhar Tsarnaev carjacked a black Mercedes-Benz SUV in Cambridge, Mass. Its driver escaped shortly after midnight on April 19; the ensuing saga left one suspect dead, another in custody and an entire city on lockdown.
It turns out the Mercedes played a significant part in bringing the Tsarvnaev brothers down. The Boston Globe reports that the vehicle, an ML350 SUV, was leased by its owner, a 26-year-old Chinese entrepreneur who wishes to remain anonymous. It had Mercedes' mbrace2 telematics system, complete with an app on the owner's iPhone that allowed him to track the vehicle's location.
What followed was a bit of GPS sleuthing that shows stealing a car with an active telematics subscription — whether it's mbrace, GM's OnStar or others — is a fast way to get caught.
The Boston Globe details the moment Danny — the ML350 owner's American nickname, by which he requested identification — saw his chance. It was at a Shell station in Cambridge some 90 minutes after the carjacking began. The three pulled in for gas, and Dzhokhar Tsarnaev walked into the convenience mart to pay the cash-only pump. That left Danny in the car with Dzhokhar's older brother, Tamerlan, who put down his weapon to futz with a navigation device. Danny unbuckled his seatbelt, flung the door open and fled to a Mobil station across the street.
The Tsarnaev brothers sped off, and police arrived minutes later. Danny told them he could track the stolen car on his iPhone via the ML350's mbrace telematics system, and officials took over.
"We received a call from the authorities shortly after midnight," Mercedes spokeswoman Donna Boland told us. "They asked us to activate stolen vehicle tracking. After the appropriate verifications from the owner, we activated the system and, as we understand it, that helped the police to find and follow the vehicle," Boland said. She also confirmed the ML350 as a 2013 model.
It wasn't just a one-time contact.
"My understanding is that we had to keep in touch with them [law enforcement] because, remember, it's one thing to know where the vehicle is at one moment in time," she said. "As the police go to that location, of course, the vehicle isn't there anymore."
Go to it, they did. As CNN documents the night's events, police tracked the ML350 into Watertown, Mass., exchanging gunfire with both suspects. The elder Tsarnaev died from his wounds; authorities caught the younger one some 19 hours later just blocks away.
What happened to the ML350? "That vehicle is probably a piece of [police] evidence that is going to remain so for a long, long time," Boland said. "We weren't involved anymore once they actually had the vehicle in sight. Needless to say, we're very happy that we could make that contribution."
Related
Research Luxury Cars
Research Mercedes-Benz
More Automotive News