Hyundai Air Freshener Leaves Lasting Impression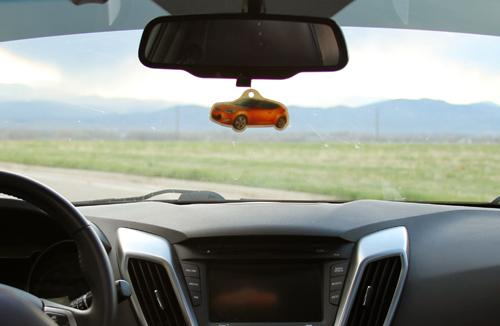 Buying a new car is a big life event. You're happy as soon as you walk out of that dealership and twist the key to start up your new ride. A year later, the new-car high has worn off along with the new-car smell.
For some Hyundai owners, that's why a small token delivered in the mail is a big surprise.
A friend of mine sent me an email a few weeks ago about a Hyundai Veloster-shaped air freshener he received from the automaker to mark his one-year anniversary in the car.
He wasn't alone in his surprise over this small gesture.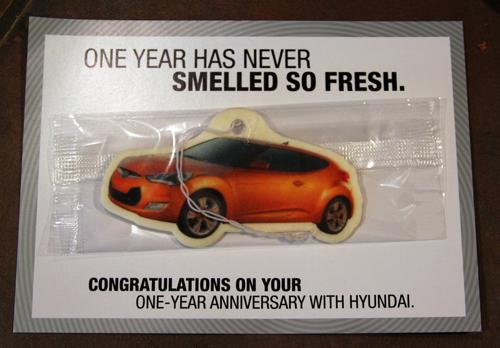 Hyundai has sent out more than 400,000 air fresheners to owners since the program started in August 2012.
"We want to make our owners feel like we're the most-loved company for service," says Dan Kulik, manager of owner marketing for Hyundai.
The air fresheners come in the shape of a Veloster or Genesis, or they wear the Hyundai logo.
"Because owners aren't expecting anything, this small gesture has a big impact," Kulik says.
It had my friend sending me an email and photos, so it seems like Hyundai is on the right track.
Related
Research the 2013 Hyundai Veloster
Hyundai Veloster: Car Seat Check
2013 Hyundai Veloster Turbo Priced at $21,950