SaferCar App Delivers on Name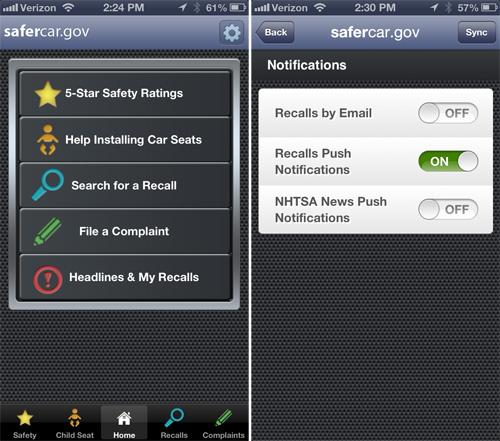 If you've ever visited the National Highway Traffic Safety Administration website, you know that it's not organized in the most efficient manner (read: archaic and confusing). Searching for something as simple as crash test ratings can have you hunting for much longer than necessary. Just show me the stars, people!
NHTSA is growing with the times, though, and has released a free app for the iPhone — it is currently working on an Android version — that takes the best of what the agency offers online (safety ratings, recalls, complaint filing and more) and makes it all quick to access and super simple to use.
Here's a quick overview, but since it's free, we recommend you download it and try it out yourself.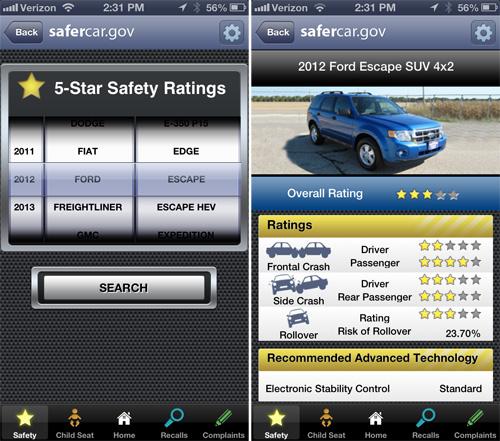 Crash Test Ratings: Say you're out shopping for a car (new or used) and quickly want to check its crash test ratings. Or you're a paranoid helicopter parent worried about the kids riding in Grandpa's old beater and want to validate your concern. You can click the Safety Star icon in the app, spin to the model year, spin to the manufacturer, spin to the model and get instant access to that vehicle's crash test ratings. You also get a quick glance at the number of recalls on that model, the number of investigations and the number of consumer complaints. It also gives you a list of recommended advanced safety technology to consider in each car (in the 2011 model year or newer), and whether it is standard, optional or not included.
Unfortunately, you cannot get this type of snapshot for a specific vehicle on the NHTSA website.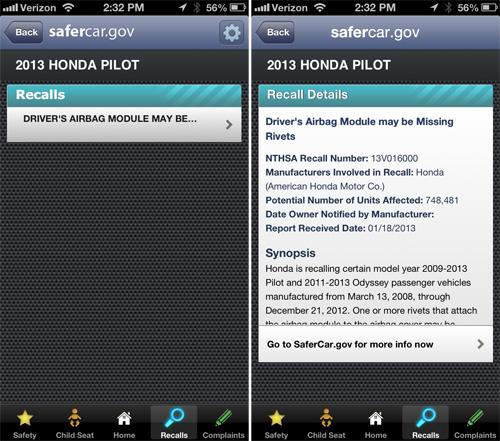 Recalls: It can be a pain to try to monitor any potential recalls on your own vehicle. Sometimes you'll be notified by the manufacturer itself in the event of a recall, but if you own an older car, and there have been numerous owners and owner addresses associated with the car, you may be left to monitoring the news to find recalls that impact your car.
The SaferCar app allows you to quickly search for a detailed list of any recalls on your car by taking a photo of your vehicle identification number. You can also add that car to your "profile" and have NHTSA notify you via email or push of any new recalls.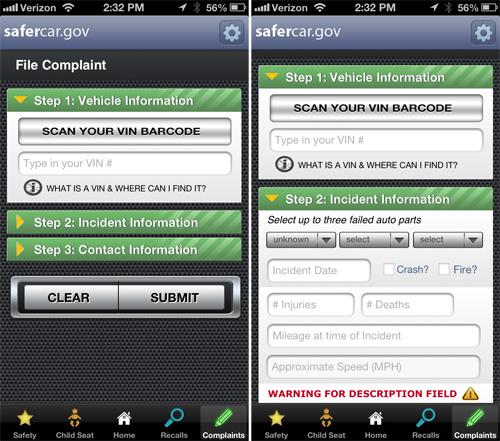 File a Complaint: If you have any concerns or complaints about your vehicle, NHTSA is the entity to report it to (sticky gas pedal, anyone?). This app makes it quick and easy to file a complaint by scanning your vehicle's VIN barcode into the app, detailing the incident and verifying your contact information. Voila! Instant accountability. We wonder if this ease of use will lead to more consumer complaints versus the more confusing system on the website.
Help Installing Car Seats: For more on this section, click here.
Related
More Safety News
Research New Cars
Best Cars for First-Time Drivers