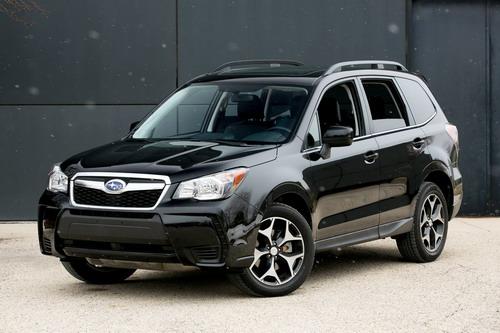 As of this morning, Cars.com had fewer than 4,800 2014 Subaru Foresters in new-car inventory — less than half the stock of 2013 Toyota RAV4s and a mere one-fifth the number of 2013 Honda CR-Vs. Heck, the Mazda CX-5, a competitor the Forester handily outsold in April, had more than double the 2014 inventory.
Cars.com Reviews the 2014 Subaru Forester
The new Forester went on sale in March 2013, and April sales outpaced year-ago numbers by 65.3%. Yasuyuki Yoshinaga, CEO of Subaru parent Fuji Heavy Industries, told The Wall Street Journal (sub. req.) that Subaru feels the inventory pinch. The automaker targeted 8,000 monthly sales, but the SUV could eclipse 10,000 this month — a situation that could cause a supply shortage, Yoshinaga told WSJ.
It already looks that way. WSJ reports that dealer supply of the small SUV stands at just 16 days — the time it would take for Subaru dealers to sell their Foresters at the current pace if manufacturing stopped. Compare that to the industry's average, which was 63 days on May 1, according to Automotive News.
The Forester hails from Japan. Subaru
announced in early May
it would expand production at its sole U.S. plant — in Lafayette, Ind. — by 100,000 units a year, but it'll make the Impreza, not the Forester, in Indiana. Yoshinaga said the automaker will likely have to set new sales targets in the U.S., but it remains to be seen if it can ramp up Forester production to meet that demand.
Related
Subaru Adds Jobs, Cars to Indiana Factory
Several Compact Crossovers Fail IIHS' Small Overlap Test
More Subaru News