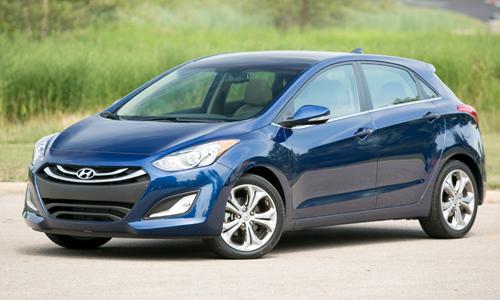 Nissan and Ford led a strong month for the auto industry, with sales up 23.2% at Nissan and 17.9% at Ford thanks to big gains among both carmakers' strongest sellers.
Nissan Altima
sales gained 35.4% while
Ford Escape
sales spiked 52% — despite similar year-over-year incentives on both and lower dealership supply for the Escape.
It may seem bizarre that the Altima, then, isn't among the top 10 best-sellers. It's been there for ninth months straight, and in March it was the best-selling car (not truck) in America. But a year ago, sales were dismal — less than 17,000 in April 2012 — so even a healthy spike kept Nissan off April 2013's top 10.
The Toyota Camry and Honda Accord had higher-profile struggles. The Camry's sales drop could signal plateauing demand for Toyota's seventh-generation family sedan, whose year-over-year sales have declined for three straight months. The new Accord, meanwhile, is just 7 months old, and shoppers found significantly lower discounts versus the 2012 Accord a year ago. It's a factor that could affect Accord sales through autumn. Still, Ford didn't seem to have a problem with that. Anyone considering the new Fusion found a similar situation — lower discounts versus year-ago levels — but it didn't stop shoppers from flocking toward the popular sedan, whose sales boomed 23.7%.
The
Hyundai Elantra
snuck past Toyota's
Corolla
/
Matrix
for a spot in the top 10, where the compact car hasn't landed since June 2011. Hyundai pulled the coup with a coupe — the Elantra coupe, that is. The automaker told us earlier this year that 25% of Elantra sales come from the coupe and new
Elantra GT
hatchback. In April 2012, you could only buy the Elantra sedan or the prior-gen
Elantra Touring
wagon.
With the top seven automakers reporting their numbers, overall new-car sales gained 9.5% in April. Toyota, Honda and Hyundai-Kia fell below that mark. GM outpaced it, with overall sales up 11.4%. And despite less-than-stellar quarterly profits, Chrysler's U.S. sales also picked up — thanks to, well, pickups. Bolstered with a host of updates for 2013, the Ram 1500 and Heavy-Duty combined for a 48.7% sales increase despite lower incentives.
All full-size pickup trucks had a good month, fueled by a housing market that drives pickup sales like summer temperatures drive ice cream. It was a rocky road, so to speak, for new-home construction until 2012, but the recovery continues. Housing starts neared a five-year high in March, and full-size pickup sales gained 26.9% in April. The Detroit Three's best-sellers — the Ford F-Series, Chevrolet Silverado and Ram — led the way, combining for a 30.7% increase despite stable or lower incentives.
Such is how the discount wars, or lack thereof, continue. The auto industry has found pricing discipline not seen in years, as new-car discounts hold steady and transaction prices continue their upward march. The average new car in April sold for $32,507, up 2% ($632) from April 2012, according to CNW Marketing Research.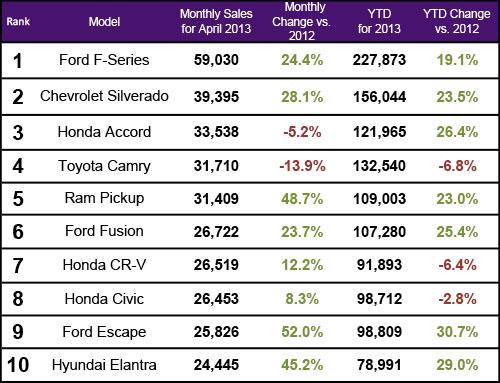 Related

Top 10 Best-Selling Cars: March 2013
March's Fastest- and Slowest-Selling Cars
More Automotive News