Under-Floor Storage Keeps Clutter to a Minimum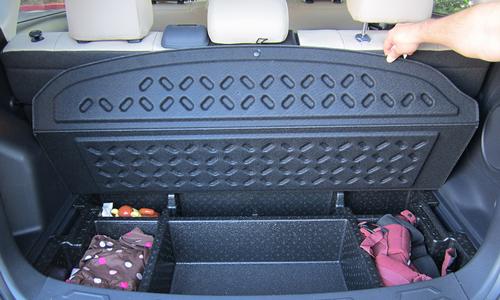 Whenever I get a test car, I always lift the cargo-floor flap just to see if it's there — the under-floor storage tray, which always confounds me.
What can someone do with the partitioned, shallow foam tray besides look at it and wonder what will fit in there? It's not big enough to house dirty shoes or jugs of windshield washer fluid. So, what does fit then? I usually ignore the trays in my test cars, but I've learned from others that to do so is to eliminate a serious tool from our bag of storage tricks.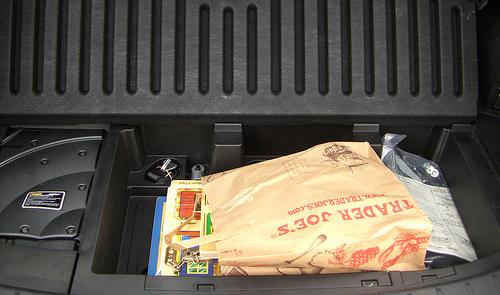 One issue I have with under-floor storage trays is they're partitioned like a cafeteria lunch tray. However, Cars.com's Family reviewer Carrie Kim extolled the shallow tray's virtues and remains undaunted by the sections. When she owned a Hyundai Santa Fe, she said she stored "my shopping bags in one section, jumper cables in another — I even used to carry an emergency blanket under there. I usually kept an umbrella and an extra sweater in there too. Now that I don't have the under-floor storage [in her 2012 Volkswagen Jetta], I really miss it."
I've used larger under-floor bins for hiding Christmas gifts, as has Cars.com Family reviewer Courtney Messenbaugh. But Courtney said she also uses the shallow trays to stash the gifts long after they've been opened; she occasionally stashes her iPad in the under-floor storage compartment.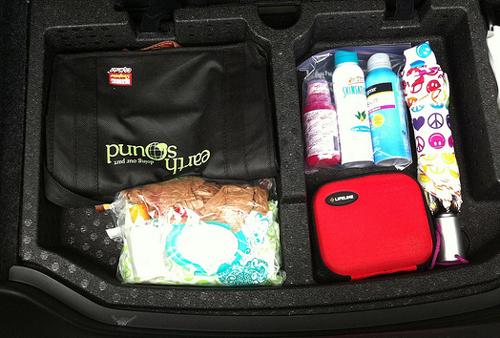 I now regret writing off this extra space and am crafting a plan to declutter my car by using its tray most efficiently. It involves corralling items in some pouches — zippered plastic bags, cosmetic bags or lightweight sacks. I just need to remember that whatever I use has to stay pretty low profile.
If I had infants and toddlers, I would put spare diapers and diaper cream in a pouch. I'd also add a spare T-shirt and shorts; if I'm using the spare diapers, chances are one of us will need a change of clothes too. In another pouch I'd place items that always seem to get left at home yet don't come in first-aid kits: sunscreen, bug spray, kid's pain reliever and extra plastic bags in case of car sickness. I'd toss in an emergency phone charger too. Another could hold rations like granola bars and fruit leather. Lastly, I'd pack a waterproof bag for wet items.
What items do you keep in your car's under-floor storage area? Tell us in the comment section below.
Related
Top 10 Cargo Surprises
Car Storage Wars: Inventive Places to Stash Your Stuff
More Family News