U.S.-Built Nissan Leaf Gets Mileage, Sales Jolt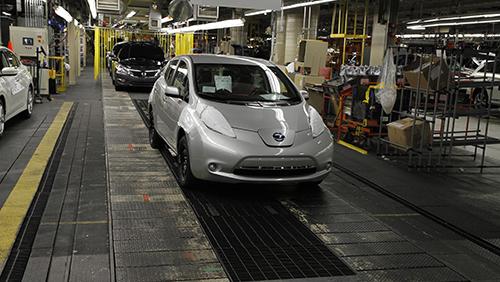 Nissan is getting a lot of mileage out of its decision to move production of the 2013 Leaf to the U.S. from Japan — not just in terms of fuel economy improvements but in sales figures as well. The EPA has given the electric vehicle's 2013 version a 16-mpg bump in its mileage ratings thanks to enhancements made following the move stateside. Meanwhile, a price reduction helped propel the Leaf to its best sales month ever in March, bringing total U.S. sales to 25,000 since the car debuted.
The EPA now rates the Leaf at 129/102/115 MPGe city/highway/combined compared with its previous rating of 106/92/99; that amounts to a combined-mileage increase of 16 mpg. According to Left Lane News, a more aerodynamic front fascia and a 129-pound weight savings thanks to a new charging unit made the mileage boost possible.
The move from Japan also assisted in the sales increase by allowing Nissan to lower the price. Kicking Tires reported earlier this year that the automaker in part made the move to avoid currency fluctuations that wreaked havoc on Leaf pricing for 2011 and 2012 models imported from Japan. Nissan subsequently introduced a new base model, the Leaf S, and reduced the starting price by $6,400. The result has been a more than 423% year-over-year sales increase, taking the Leaf past the 25,000 milestone and reinforcing its position as the best-selling EV in the world, according to Nissan.
"With more than 25,000 Leafs in the U.S. and 62,000 around the world, we're seeing the adoption curve for EVs accelerate," Erik Gottfried, Nissan director of EV marketing and sales, said in a statement. "And there is tremendous interest not only on the West Coast but in a number of new strongholds like Atlanta, Raleigh, Denver, Dallas, Chicago, St. Louis and many more."
Related
Nissan Works on Leaf Range Concerns, Expects Sales to Rise

Selling Our Nissan Leaf Was, Well, Weird
More Nissan Leaf News on Cars.com