2013 Buick Encore: Mother-in-Law Mobile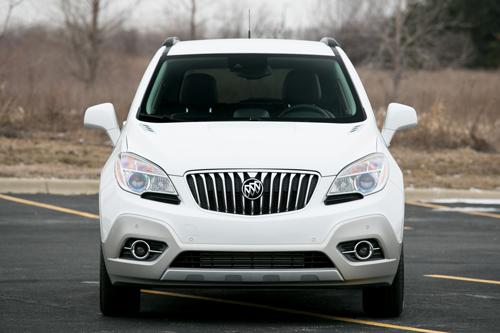 One unofficial role of a car reviewer is to be the go-to person for car-shopping family members. My mother-in-law has been in the market for
a while
and has a specific list of likes and must-haves, along with an equally daunting set of dislikes and don't-needs. It's been tough to find the right fit — until the
Buick Encore
went on sale.
On her must-have list are a tall ride height, city-driving maneuverability, a compliant ride and comforts such as navigation and a heated steering wheel. She doesn't want the extra cargo and passenger space of a crossover but also doesn't want to sit low, like in a sedan. After researching several crossovers and sedans, the Encore looks like a winner in a lot of ways.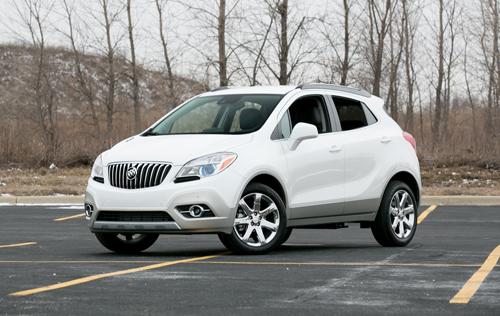 Buick's tiny, near-luxury crossover offers many convenience features that other subcompact cars and compact SUVs don't. It also combines a taller, SUV-like ride height with the maneuverability of something much smaller. The wedgy Encore is an odd-looking vehicle at certain angles, and it's tough to classify since, at almost 169 inches, it's much smaller than upscale compact crossovers like the BMW X1 and Volkswagen Tiguan. Who's Buick targeting with this new niche vehicle? Turns out, it's my mother-in-law.
"We're targeting young professionals and more established buyers who are looking to downsize from larger vehicles. We anticipate more urban than rural because of Encore's size, versatility and maneuverability," Phil Colley from Buick Communications told us.
According to Colley, the brand is hitting its mark. "Preliminary data indicates we're reaching our target customers, especially when you consider that a good portion of sales are coming from people disposing of compact and midsize cars and SUVs. We are also seeing strong sales in the Chicago, New York and Philadelphia downtown metro areas suggesting a more urban environment," he said.
But will Buick be able to hook my mother-in-law? I took her on a test drive in downtown Milwaukee, swapping her 2001 Pontiac Grand Prix for an all-wheel-drive 2013 Encore Premium. While base models start around $25,000, the top-line, feature-loaded Premium model starts at $30,440 and our test car topped out at $32,975 after unique wheels, navigation and pearly paint (all prices include a $750 destination charge). With a budget of $30,000, the price was right.
The ride also won it some points; it's smoother and more composed than her current car. Sitting up higher also made her feel safer, as did safety features like the forward collision and lane departure warning systems. Parking was another win: The backup camera and relatively small turning circle meant she had no problem getting into tight spaces downtown.
The luster started to fade on the highway, however. Although the four-cylinder engine felt strong enough around town, with only 138 horsepower, hill climbs winded it and highway merging took some planning. Visibility was another miss. The car's darkened rear side windows, coupled with the Encore's sloping roofline and intruding head restraints left her with bigger-than-comfortable blind spots in the back and to the rear corners.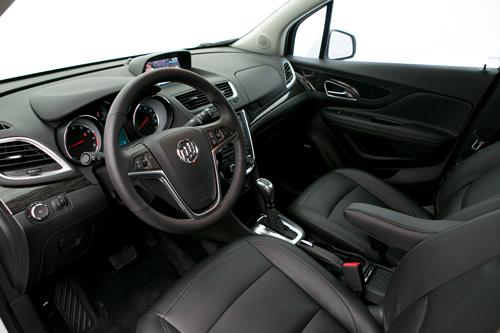 Will she buy it? Like most car shoppers, it's a big decision and a long process, but the Encore definitely made the short list.
Related
Research the 2013 Buick Encore
2013 Buick Encore: Car Seat Check
2013 Buick Encore: First Drive