2013 Volkswagen Jetta Hybrid: Family Checklist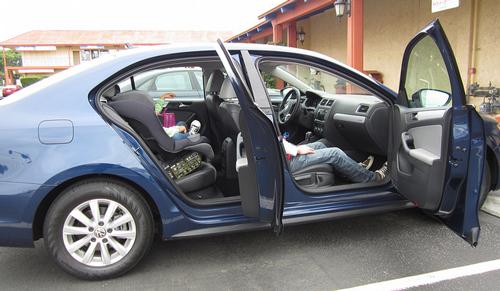 I own a 2012 Volkswagen Jetta, and for its size it's got an amazing amount of space, a ginormous trunk and pretty good fuel economy. I figured the 2013 VW Jetta Hybrid could only be better. While I can't say that the Jetta Hybrid is markedly better, it served my family of three well and saved us a bit of money with its fuel economy.
On the inside, the Jetta Hybrid functions just as well for families as the non-hybrid does. With the front passenger's seat moved all the way back and generously reclined, my daughter still couldn't kick the seatback from her backseat perch in her child-safety seat. Her car seat was easily accommodated in the ample backseat, and the center armrest could be used even with the car seat installed. Because it's a sedan, my 2-year-old daughter was able to easily climb into the backseat on her own. The interior's finishes are the same in the Jetta and Jetta Hybrid, and the two cars' displays are practically identical.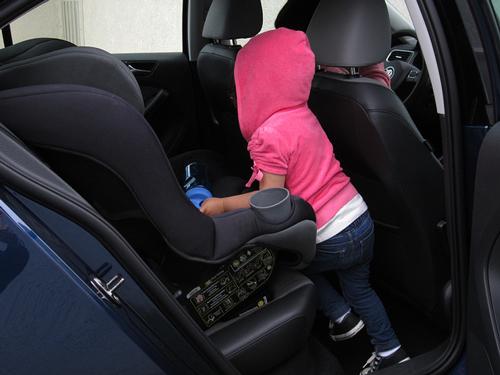 What is different is the way the Jetta Hybrid feels when driving it. You can tool around town in this car and have some fun; the hybrid has a 150-horsepower, turbocharged 1.4-liter four-cylinder engine that's paired to a 27-hp electric motor. Unless you're hypermiling, you'll find yourself zipping down the carpool lane with much more pep than you'd expect. Driving enthusiasts may have found the unicorn they've been looking for — the Jetta Hybrid is a "driver's hybrid."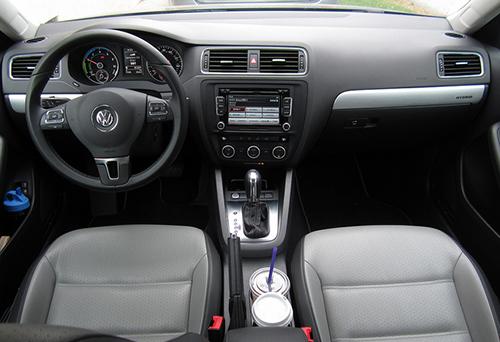 There certainly are no gimmicks with this hybrid. It's not aerodynamically shaped, and you don't earn tiny green cars or see efficiency leaves grow the "greener" you drive it.
When you get down to the nitty-gritty, the Jetta Hybrid's fuel-economy numbers might not be enough to satisfy greener-minded families. It gets an EPA-estimated 42/48 mpg city/highway and 45 mpg combined. I tend to get lower averages than most EPA estimates, but this time my Jetta Hybrid average was way off at 34 mpg for the week. That was disappointing since my non-hybrid Jetta averages aren't that much lower. If you're looking to get high fuel-economy numbers, the Jetta Hybrid might disappoint. Toyota's family-focused Prius V is rated at 42 mpg combined while Ford's Fusion Hybrid is rated at 47 mpg combined.
Adding to the sting, the Jetta Hybrid's turbo engine requires premium gasoline; so while you may use less fuel, you'll pay more at the pump.
You'll also pay a premium to get into the Jetta Hybrid. The base model starts at $25,790, while the traditional gasoline-powered 2013 Jetta has a starting price of $16,340 (all prices include a $795 destination charge). That's quite the difference. My Jetta Hybrid SE test car cost $27,820; for that price, you'd think a backup camera would be standard, but it's not even an option on this midlevel trim.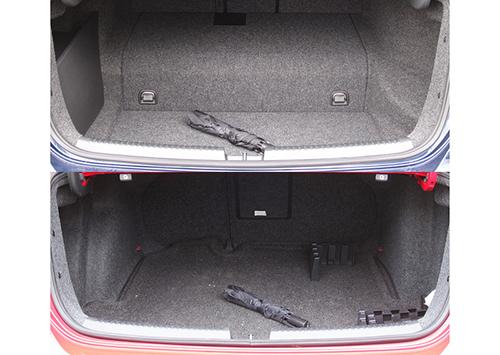 One of the most appealing things about the regular Jetta is the trunk is huge. At 15.5 cubic feet, I can really pack it in. The Jetta Hybrid's available trunk space is reduced to 11.3 cubic feet because of the lithium-ion battery. I was still able to stash my stroller inside the Jetta Hybrid, but a double stroller is probably out. A major grocery store run would still work, but the smaller trunk size was a bummer for my family.
Overall, I still find that most of the Jetta's family-friendliness crosses over to the Jetta Hybrid. However, it may not save your family enough at the pump to justify its higher price.
Related
Research the 2013 Volkswagen Jetta
2013 Volkswagen Jetta: Impressive Mileage, Irritating Brakes
More Family News