BMW Prices Redesigned 2014 X5 at $53,725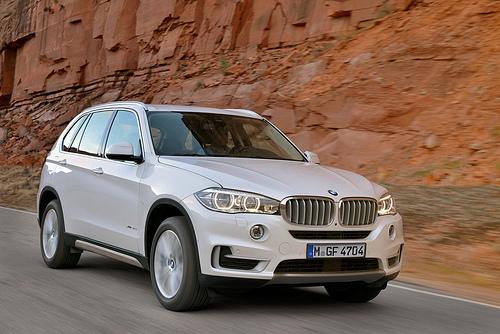 BMW's redesigned 2014 X5 will start at $53,725, including a $925 destination charge, when the luxury SUV goes on sale this fall. The new-for-2014 sDrive35i is BMW's first use of rear-wheel drive on the formerly exclusive all-wheel-drive X5. Two things could have come of this: a lower base price and higher fuel economy — both happened for the 2014 Acura MDX. However, the 2014 X5 is $5,300 more expensive than the previous model, and EPA fuel economy ratings aren't yet available.
The increased base price comes with more standard features, including navigation with a 10.2-inch screen, an auto stop-start system to save fuel, a 40-20-40 split-folding rear seat and a 10-year subscription to BMW's Assist service with automatic collision notification and TeleService that alerts the dealership when service is due.
Choosing all-wheel drive bumps pricing to $56,025 for an xDrive35i with a 300-horsepower, turbocharged six-cylinder — same as the sDrive35i. The diesel-powered xDrive35d carries over and starts at $57,525 with a 255-hp and 413-pounds-feet-of-torque six-cylinder, while the V-8-powered xDrive50i with 445 hp starts at $69,125. All models include an eight-speed automatic transmission and Eco Pro driving mode to maximize fuel efficiency.
Related
2014 BMW X5: First Look
More BMW News
2013 BMW X5 Review