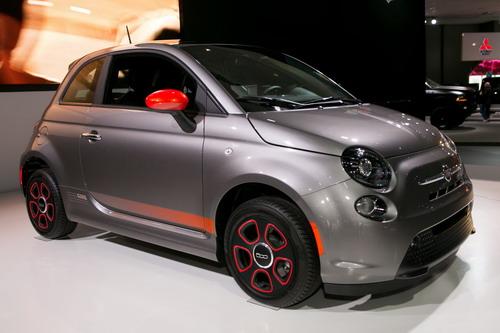 Starting in June, Fiat will issue a 36-month lease on the California-only 500e for just $199 a month after $999 due at signing. That's the same lease rate as a gasoline 500. Choose to buy the 500e, and it runs just $21,800 after major federal and California tax incentives.
Still, those trips to grandmother's house might need something with longer range. The 500e's 87-mile EPA range gets you over the river but not quite through the woods. To get you there, Fiat has an interesting program: It gives you 12 days a year of rental-car allowances.
The program, called "500e Pass," works through Enterprise, National or Alamo rent-a-car — all subsidiaries of Enterprise Holdings Inc. — and credits up to 12 standard-size rental days a year. That gets you a
Chrysler 200
,
Dodge Avenger
or equivalent car.
We dug into the program rules, and it turns out the 500e Pass hands out 504 "credits" equal to $504. Matt Davis, head of Fiat product marketing, told us June 13 that the credits should cover 12 standard-grade rentals at $42 a day — roughly the daily average for a rental car plus taxes and surcharges at Alamo, National or Enterprise, Davis said.
What if you live somewhere with pricier rates? We priced out Enterprise rentals in six California cities large and small, and daily rates including all fees ranged from $39.78 for a weekday rental in Bakersfield to $196.69 for a weekday rental at San Francisco International Airport. It would appear the higher rates, particularly those at airports, suck up 500e Pass credits faster than you can say "baggage claim."
Not so, said Fiat spokesman Jiyan Cadiz.
Fiat has negotiated an average rate for all of California, Cadiz said. Location within the state doesn't matter, especially because most electric-vehicle owners live in cities and face higher rental-car rates.
Fiat 500e ownership is "all going to be heavily city-centric, so that can't be a reason" to lose credits, Cadiz said. "Otherwise, what good is the program?"
Unused credits don't roll over, and you can't use the program for more than 12 rentals per year. You can, however, rent any car — not just a standard grade, the program says. Decide you want an SUV or larger car, and the 500e Pass works for that, too.
"You might only get 10 rentals if you wanted a bigger car, but you'd get the car you wanted," Fiat marketer Davis said. "We're going to try to get [customers] into Chrysler products up front, but it doesn't have to happen."
What about insurance? Whatever policy you had for your 500e should carry over, Davis said. That's generally true for all car insurance. But you may not be able to draw on another common source — the rental-car coverage extended by many credit cards — because you'd only swipe your card for a security deposit, not to pay for the rental (as most credit-card contracts stipulate to receive coverage). Check with your credit-card and insurance companies for specifics.
Although the program accommodates base rental charges plus common taxes and surcharges, additional extras — from navigation systems to prepaid gas — aren't covered, Fiat says. The program is open to any 500e buyers age 21 and older, but if you're between 21 and 25, expect to pay a young-driver surcharge — which can amount to as much as $25 a day in some locations — out of pocket. It's not covered under the 500e Pass, Cadiz said.
Still, small print aside, the 500e Pass seems an innovative way to address the shortcomings of electric-car ownership. Davis said the three-year clock starts the day you buy the car, not the beginning of its model year. And you can't transfer those credits to a subsequent buyer, even if you sell the 500e before three years are up. Do that, and Davis said you'll still get annual credits to use on personal car rentals until the program's three years are up.
"The program's for you, the first buyer," he said.
Related
EPA: 2013 Fiat 500e Goes 87 Miles on a Charge
2014 Chevrolet Spark EV Starts Under $20K After Federal Tax Credit
More Green-Car News