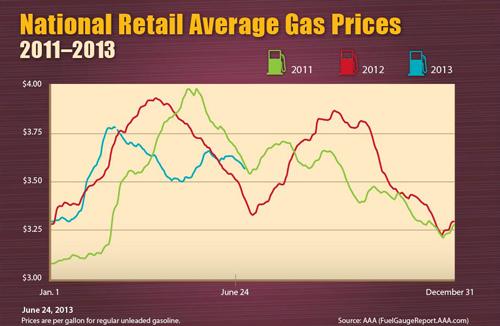 The Midwest is finally
getting some relief
from pain at the pump. According to AAA's Fuel Gauge Report, resolved refinery issues have led to steep drops in gas prices for the Great Lakes states. Although motorists in 14 states and Washington, D.C., are paying slightly more for gas this week, prices in much of the country are dropping, and the national average is down compared to week-ago levels.
Gas prices in Chicago and the rest of the Midwest soared to near-record highs this spring thanks to maintenance issues at the ExxonMobil refinery in Joliet, Ill., and the BP refinery in Whiting, Ind. AAA reports that since those facilities have normalized production, Michigan (-30 cents), Indiana (-27 cents), Ohio (-24 cents) and Wisconsin (-24 cents) have seen steep drops compared to levels at the beginning of the month. AAA reports that the average price of a gallon of regular gas in Chicago today is $4.26, down from $4.46 a week ago.
As the summer road-trip season gets underway, the rest of the country should, in the short term, continue to see numbers coming down at the pump. Today's national average price for a gallon of regular fuel is $3.53, down from $3.60 last week and last month's $3.63 average. It might not last long, however.
"AAA expects that the national average is likely to continue dropping for the rest of June, but might, as has been the case in recent years, turn higher in July as the summer driving season ramps up," it said in a statement. According to the agency's reports, the national average rose 17 cents per gallon in July 2011 and 16 cents in July 2012.
Related
Gas Prices Plummet Nationwide Except in Chicago Area
Minnesota, Midwest Gas Prices Spike Before Memorial Day
Another Gas Price Roller Coaster: What to Do