Need to Fit Three Car Seats? Slim Foonf Might Work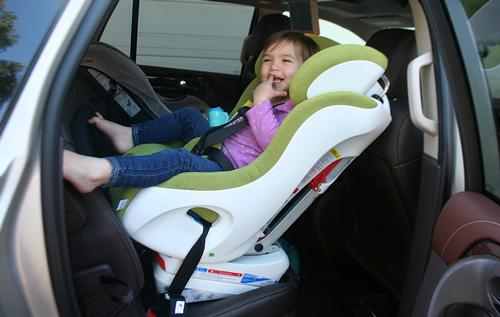 They say hindsight is 20/20, and in the case of my child-safety-seat purchases, they would be correct. If I could go back in time, I'd skip buying the super-wide convertible car seats and would look for a much slimmer design, like the Foonf car seat by Clek.
The Foonf is a slim but pricey convertible car seat that's just less than 17 inches wide, which means that fitting three safety seats into a backseat could be a little easier with this car seat. According to Clek, 50 inches of seat width is required to fit three forward-facing Foonfs side by side (48 inches if you stagger one of them rear-facing).
When Baby No. 3 comes along, many families buy a new car because they can't fit three car seats across their smaller car's backseat. Some cars will fit three child-safety seats across the second row, but the list is small. While the Foonf might make it possible to keep your current car, you'll likely end up having to buy more than one of them.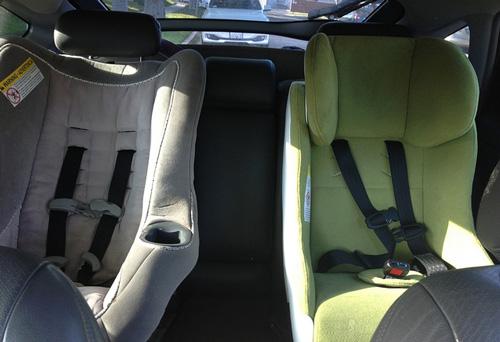 I tested the Foonf in my 2008 Toyota Prius, which has 51.6 inches of rear hip room. Mathematically three Foonfs could fit, but I had only one Foonf that I tested with my Graco My Ride 65 convertible car seat, which is 20.8 inches wide. There was no way I could fit a third car seat in the Prius' backseat. I might have had more luck in a midsize 2013 Toyota Camry with its 54.5 inches of rear hip room.
While I have learned to love my minivan, which we purchased after finding out we were expecting Baby No. 3, I'd like the option of handing off my kids to the Mister and his sedan. Three Foonfs could be the solution, but one big downside is the price. Triple the Foonf's $474.99 retail value, and you're going to spend more than $1,400 on car seats alone. However, it might be worth it if you consider the fuel you'd be saving by driving a sedan over a minivan or three-row SUV, and it's cheaper than buying a larger vehicle.
Related
Clek Foonf Makes Extra Room in the Car, but Costs $470
Which Cars Fit Three Car Seats?
More Family News