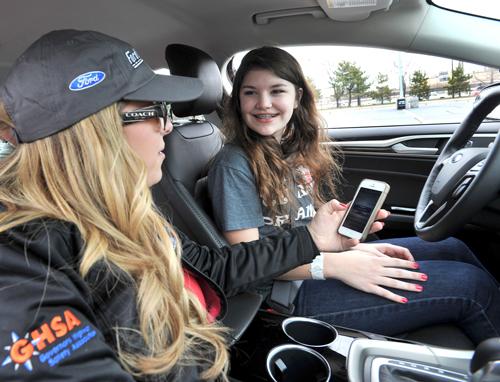 A new study released by Ford netted some interesting results regarding teens and their driving habits. However, more astounding than the basics of teen distracted driving are what the study found regarding parents' habits in their cars.
The survey conducted by Penn Schoen Berland found that parents are 40% more likely than teens to check their cellphones while driving. Yikes, practice what you preach, mamas and papas. And if you think you can outsmart the danger factor by using a hands-free system, you're flat-out wrong. A new study by AAA has found that hands-free most certainly isn't risk-free.
Here's a quick rundown of the study's results:
Both teens (76%) and parents (83%) consider distracted driving as dangerous as drunken driving, yet parents are still 40% more likely to check their cellphones while driving.
Parents and teens both wrongly perceive the winter months as the most deadly for teen drivers, but it's actually the summer months. In 2011, there were 358 teen driver fatalities in June, July and August combined, compared to 271 teen driver fatalities in December, January and February.
Unsurprisingly, while teenage boys are more likely to engage in aggressive driving behaviors, teenage girls are more likely to engage in social distractions in the car.
While parents are generally concerned about the safe driving habits of their teens, only 28% of them actually use some type of technology to help monitor and reinforce safe driving habits. There are many different options out there for concerned parents, such as Ford's MyKey and Hyundai's Blue Link, smartphone apps such as Otter that eliminates talking and texting ability while in a moving car, plug-in monitoring systems from several insurance companies and even the State Farm Driver Feedback app that "watches" your driving patterns and teaches you how to drive smarter.
What have you observed in your family? Is the lure of texting, emailing and Facebooking while driving more tempting for you than your teens? Tell us in the comment section below.
Related
AAA Study: Hands-Free Isn't Risk-Free
Teen Driver Deaths Up as Summer Approaches
Teen Drivers Less Likely to Text With Passengers