2013 Acura TSX Sport Wagon: Family Checklist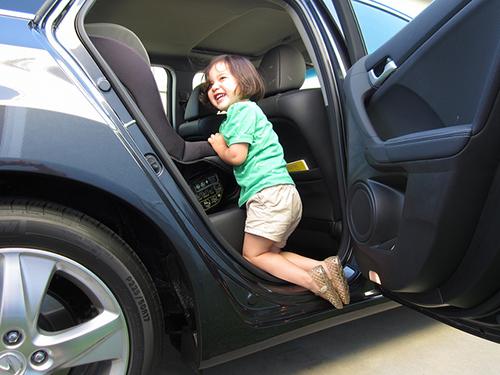 Sometimes you sit inside a car and instantly feel a connection, and that's what happened to me in the 2013 Acura TSX Sport Wagon. This luxury wagon nearly has it all — styling, handling and cargo space, but it falls short in backseat legroom when the whole family is onboard.
I was skeptical of the TSX Sport Wagon before my test drive. When I previously tested the TSX sedan, I found it to be too tight a fit for my family of three. But two years later, with a toddler now in a forward-facing convertible seat instead of a rear-facing infant carrier, the TSX wagon was a better fit, though it's not exactly spacious in the second row. The wagon and sedan have the same space in the front and rear seats.
The TSX Sport Wagon is fun to drive with great handling. Its 2.4-liter four-cylinder engine makes 201 horsepower and provides plenty of acceleration. It gets an EPA-rated 22/30/25 mpg city/highway/combined; I was surprised that I maintained 22 mpg in heavy stop-and-go city driving. Premium gas is recommended for the TSX wagon, which I found slightly annoying, but I was over it once I got back on the road.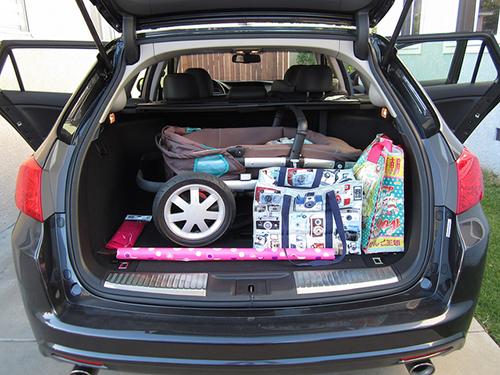 The TSX wagon provides a good amount of cargo space. It has 31.5 cubic feet of space behind the second row and 66.2 cubic feet when the rear seats are folded. That's in line with the Volkswagen Jetta Sportwagen, which has a 32.8-cubic-foot cargo area with the rear seats up and 66.9 cubic feet with the backseat folded, and bigger than the Audi Allroad with 27.6 and 50.5 cubic feet of cargo space.
When the rear seats were in use, the only thing that seemed to shrink the TSX wagon's cargo space was my stroller. It fit, along with a grocery bag or two, but some bigger double strollers may be a squeeze.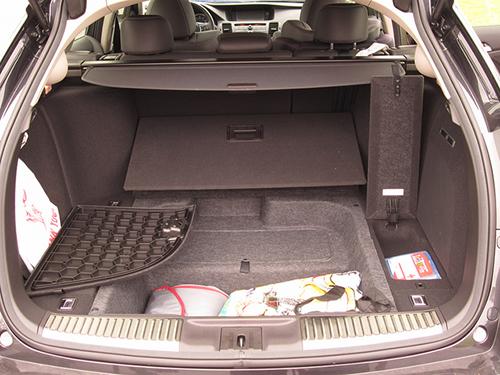 Acura didn't mess around with the storage cubbies. I was thrilled with the huge cutout under the cargo floor that I used to house my picnic blanket, beach towels and my toddler's bag of sand toys. This left the cargo area open for quick changes on the go — from park to pool to home. There are also cargo-area storage cutouts that worked perfectly to stow an extra jacket and reusable shopping bags. I stashed my first-aid kit in a smaller cutout. I was also happy to find grocery-bag hooks, which kept bagged items from sliding around the rear. The cherry on top was the optional power tailgate.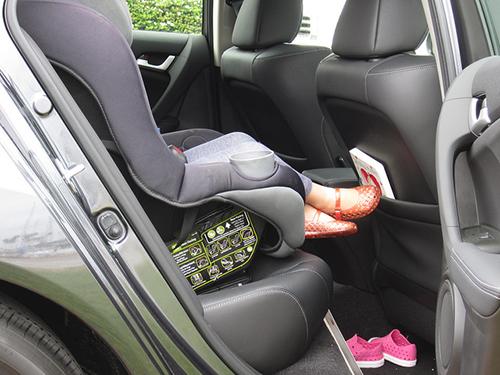 However, just like in the TSX sedan, things did seem to get cramped once my husband joined us in the wagon. With 34.3 inches of rear legroom, my daughter's legroom was tight when my husband adjusted the front passenger seat rearward.
The rear seats also have some of the worst Latch anchors ever. Even with the slits in the upholstery for easy access, you can barely see them. But, with a low step-in height that made it easy for my 2-year-old to get in and out independently, air vents for the backseat and enough tech inside to satisfy the gadget gal in me, I remained happy with the TSX wagon as I zoomed around town during a busy week.
Related
Research the 2013 Acura TSX Sport Wagon
Luxury Wagons Work to Woo Families
More Family News