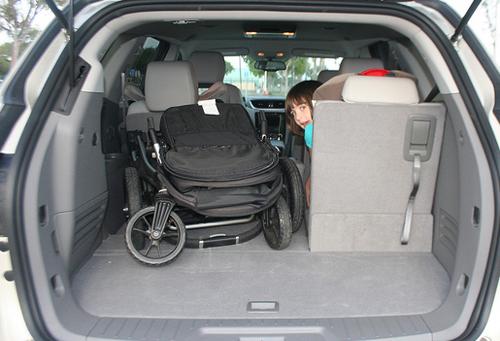 As a stay-at-home mom of three small kids, there's not much about my daily life that my childless friends envy. So I lucked out when my uber-hip, aka childless, friend came to visit while I was testing the 2013 Chevrolet Traverse. With a revamped exterior that doesn't scream "this is a mom's car" and a striking interior complete with teal-colored contrast stitching, which had us squealing like idiots, we were happy to ditch my usual minivan for our kid-free afternoon out.
The 2013 Traverse is a versatile three-row crossover that I'd be happy to recommend to my single friends as well as those with smaller families. However, for those families with more than two small kids in child-safety seats, I wouldn't recommend this hip crossover.
The Traverse is perfect for a family of four that primarily uses the first two rows. It's somewhat surprising that it didn't work well for my family of five, but it really comes down to the cargo area behind the third row.
The Traverse is one of the largest three-row crossovers on the market in terms of exterior and interior size. But the 24.4-cubic-foot cargo area was just too narrow to handle my gigantic double stroller. It should be noted that the Traverse's cargo area is much bigger than the cargo areas in the Honda Pilot (18.0) and Toyota Highlander (10.3). Luckily, I was able to play a little Tetris back there and fold part of the 60/40-split third row to make everything fit; however, it's not something I'd want to do for the long term. Those were moments when my less-hip minivan started to call my name.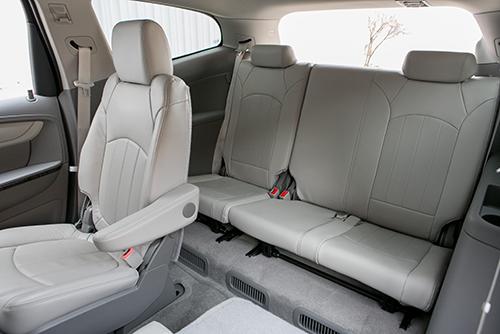 My seven-passenger tester came equipped with captain's chairs for the second row, instead of the three-seat bench that ups capacity to eight passengers and is on the lower trim levels, so my 4-year-old was pushed to the third row, which she hates. I'm sure she wouldn't have complained so much about the third row if she hadn't shared it with our double stroller.
At least it was easy for my daughter to access the third row, thanks to the captain's chairs and second-row walkway. If you don't feel like shimmying through the walkway, the second-row seats collapse and slide forward, creating a pathway to the way back.
The second-row captain's chairs, as well as the optional bench seat, have the added perk of being able to slide back and forth, giving second-row passengers or child-safety seats plenty of room.
There are only two sets of Latch anchors in the second row. While the Latch anchors were a pain to access, the versatility of the captain's chairs assured a good fit for my convertible safety seat.
From the driver's seat, the Traverse' interior is unforgettable with its zebra-patterned faux wood trim and teal-colored contrast stitching. There are a lot of bins and covered cubbies for the random clutter that finds its way into the cabin.
However, the multimedia system's color 6.5-inch touch-screen was a little on the small side, but the standard backup camera made up for it in my book. Driving around in the top-of-the-line Traverse LTZ wasn't a far cry from driving its GM sibling and luxury counterpart, the 2013 Buick Enclave. My test car, the all-wheel-drive Traverse LTZ, cost $46,410, which was about $5,600 less than the well-equipped Enclave I test-drove earlier in the month. For my money, I'd pick the luxurious Enclave over the Traverse — even with its squeal-inducing teal stitching.
Related
Research the 2013 Chevrolet Traverse
Read the 2013 Chevrolet Traverse Expert Review
More Family News