2014 Toyota 4Runner: First Drive
Although, technically, this is the sixth-generation Toyota 4Runner, all the significant changes are purely cosmetic. In fact, the chassis and powertrain are identical to the fifth-generation model, with a few interior and exterior design changes and multimedia upgrades leading the "what's new for 2014" list.
You have to give Toyota credit. At a time when other manufacturers are morphing their SUVs into fuel-efficient crossovers, the 2014 4Runner stays true to its SUV heritage (on par with Toyota's smaller FJ Cruiser and larger Land Cruiser) while incorporating a few personality-softening design cues.
The 4Runner's most significant changes are a new grille, headlight and bumper treatment with an updated gauge cluster and rounded center stack inside. Because the chassis and powertrain are unchanged, the driving portion of my time with the 4Runner wasn't as important as getting a chance to check out the changes to this midsize player.
Performance
Mechanically, there is nothing new or unique about the 2014 model when compared to the 2013 model. The 4Runner continues to be offered with the 4.0-liter V-6 that's rated at 270 horsepower at 5,600 rpm and 278 pounds-feet of torque at 4,400 rpm, and 87 octane unleaded fuel is recommended. The transmission is the same five-speed transmission Toyota has had for years on both 4x2 and 4x4 models across the lineup; EPA-estimated combined fuel economy is 19 mpg (4x2: 17/23 mpg city/highway; 4x4: 17/22 mpg).
Behind the wheel, there's no noticeable change in ride and handling; throttle response is reasonable but nothing exciting. Steering feel and response is fine and probably the best of any vehicle in the class. With so many competitors in this segment having more car-like chassis, the 4Runner, which is built on a ladder-frame, is automatically saddled with an internal disadvantage. Still, for those looking for something a little more rugged and capable, the tradeoffs might be worth it.
The 4Runner comes in SR5, Trail and Limited trims. The Trail trim, when properly optioned, offers many upgraded four-wheel-drive parts that place this vehicle in an elite crowd. Many of the same added traction devices from the bigger Land Cruiser and nimble FJ Cruiser are available as options (or standard) on the 4Runner Trail trim, making it able to navigate harsh terrain much more confidently than its competitors.
Crawl Control and Kinetic Dynamic Suspension System are just two Toyota-exclusive technologies the 4Runner offers to make for a safer and more accomplished backcountry low-range driver. Originally designed to help keep the tires on the ground over rocky terrain, KDSS also can help the SUV corner with more confidence at higher speeds.
Although a small detail, the brake hoses have been upgraded to make the brakes feel more responsive and provide solid pedal feel.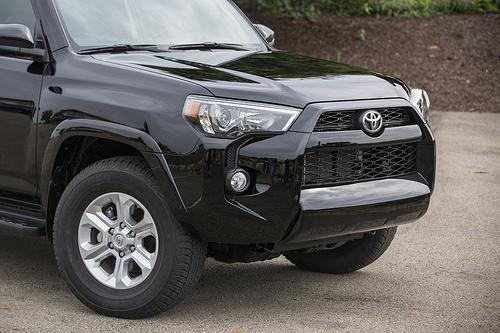 Looks
All the models have a new grille shape and design; the wider, gaping lower section is designed for additional cooling and to deliver an aggressive first impression. The headlights are resculpted and upgraded to projector lamps with their shapes narrowed, looking less like its FJ Cruiser sibling. As you might expect, the top-line Limited trim's front end offers plenty of shiny accents with a unique chrome bumper bar bisecting the front end's opening. The SR5 and Trail trims have a body-colored grille crossbar, with a wide-mouth-bass look. The Trail trim includes silver paint on the bumper's center section to make it look like a skidplate, while the SR5 bumper is body-colored. The Limited uses a traditional fog light setup in the front bumper, but the two lower trims have a parenthesis-like design under each headlight to house the integrated fog lights.
The taillights (and side mirrors on some trims) include small air-guiding spines designed to channel air and increase air pressure on the SUV's sides to help with stability at speed. These "vortex generators" are used extensively on the bigger Toyota Tundra pickup trucks, and we expect they'll carryover to Toyota's other SUVs as well. Although we couldn't tell any difference in the performance or handling during our two days with the SUV, we were told the engineers did find fuel-economy or rear-stability improvements in their testing.
Each of the trim packages gets unique wheel options. The SR5 and Trail trim offer 17-inch rims (TRD Package offers an optional 18-inch rim) and 20-inch black-accented alloy wheels on the Limited trim.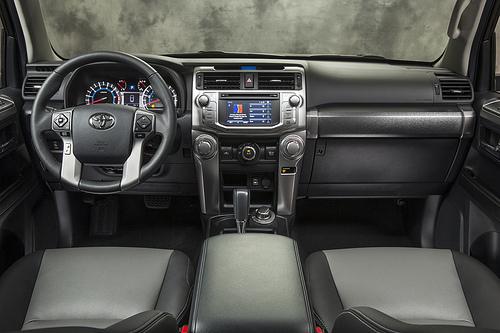 Interior styling
The interior's small improvements will be appreciated by consumers, as the gauge layout is refined and easier to read. Gone is the large single-cylinder speedometer in favor of the more conventional dual-gauge speed and tachometer readout with a new 2.2-inch information screen sitting between them. The center screen offers standard information such as real-time fuel economy, outside temperature, door-ajar lights and our favorite readout, the Eco meter that lets you modify your pedal usage to stretch fuel economy.
Each of the three trim levels has been updated with more content. We found that all models have better-quality seat materials, tighter dash and console seams, and a new padded steering wheel, which offers easy-to-read and simpler-to-understand controls. Even the entry-level SR5 (offered in 4x2 and 4x4) has the new gauge cluster, a better organized air-conditioning control setup in the center stack, standard eight-way adjustable power driver's seat and a good-quality backup camera. It's now standard across the lineup, with or without the nav screen.
The Trail model (4x4 only) includes all the standard SR5 features as well as a four-way adjustable power front passenger seat and new seating material that allows for better breathability. Options include KDSS and a sliding rear cargo deck. Both the SR5 and Trail trims will also offer a new Premium level grade that gives consumers the next-gen Entune multimedia system as well as the upgraded SofTex leatherette seats. We spent quite a bit of time with Entune. The larger control screen is a huge upgrade, looking and working more like an iPhone with sliding screens for music files, internet access, favorite sports team tracking, real-time weather and traffic, maintenance updates and more.
The Limited trim (4x2 and 4x4) includes all the upgrades and features from the SR5 and Trail offer and adds heated and ventilated front seats, new trim pieces, red stitching on the seating and a premium audio system with Entune. As on the previous generation, options include automatic running boards, sliding cargo deck and under-floor storage, and a third-row seat.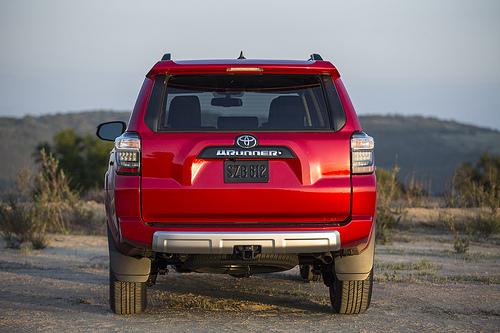 The Toyota 4Runner continues to be a versatile player in the segment for customers that like its adventure-oriented capabilities, whether exploring mountain campsites or just looking like they can when hauling the kids across town to spend some time at the mall.
Related
Research More SUVs
The $38,000 Midsize SUV Challenge
More Automotive News