Can Nissan Charge Stations Help EV Skeptics Turn Over New Leaf?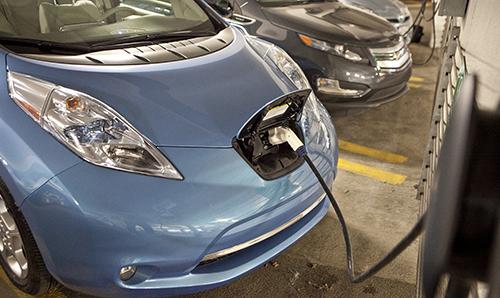 A new offering from Nissan will take you from zero to 80 in 30 minutes — that is, from a depleted battery to an 80% charge after a half-hour in the all-electric Nissan Leaf. The automaker is supporting the addition of 100 new quick-charge stations at its dealerships in 21 markets across the nation by April 1, 2014, as part of an effort to speed the expansion of vehicle charging and to foster consumer awareness of EV capabilities.
This latest initiative follows a pilot program of charging stations installed at two-dozen dealerships on the West Coast, which allowed the automaker to study customers' charging habits and the impact on dealer operations. Richard Luengo, general manager of Nissan of Downtown Los Angeles at the intersection of two heavily traveled freeways, said his quick-charge station averaged about 10 sessions per day during the test program and had resulted in improved business for the dealership.
"There is a steady stream of folks using the charger, and we've generated significant good will in the Leaf community," Luengo said in a statement. "Over the past four months, our dealership has seen market improvement in sales, and some of that is clearly attributable to the new quick charger."
Since the test program began, Nissan said about 5,600 charging sessions have taken place and each location averaged about 4.5 sessions a day. Use increased by nearly 13% between June 21 and July 1 compared with the two weeks before, according to the automaker. Nissan's charging partner AeroVironment will install the quick chargers, and the automaker expects them to be ready for use in East Coast markets starting this summer and total 100 by early next spring.
Related

Why Current Leaf Owners Should Hate the 2013 Model

AAA: Fear of Unknown Fuels Aversion to EVs

More Nissan Leaf News on Cars.com