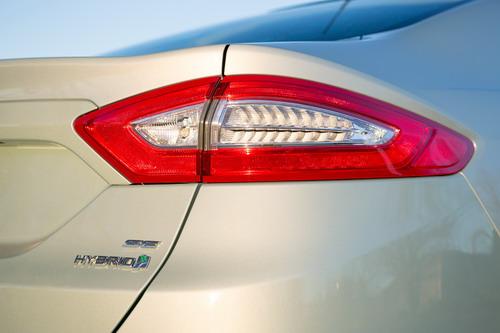 Beginning in August, Ford will recalibrate various drivetrain, climate-control and accessory systems to improve real-world gas mileage in the 2013 C-Max Hybrid, 2013 Fusion Hybrid and 2013 Lincoln MKZ Hybrid. The changes should help drivers "see the most improvement at highway speeds, during air conditioner use and operation in colder climates," product development chief Raj Nair said in a statement.
The move comes amid widespread complaints that Ford's hybrids aren't hitting their lofty EPA marks: 47 mpg combined for the C-Max Hybrid and Fusion Hybrid and 45 mpg for the MKZ Hybrid. The automaker faces at least two class-action lawsuits over too-high mileage claims. In December 2012, Consumer Reports said the C-Max Hybrid and Fusion Hybrid fell well short of their 47 mpg EPA figures during the magazine's metered tests. And in February 2013, the EPA said it would review how it tests hybrids — and scrutinize Ford's numbers in particular.
Changes include:
Raising electric-vehicle operation to 85 mph from the current 62 mph.
Reducing air-conditioning use during cold weather.
Reducing engine-cooling fan operation.
Cutting engine warm-up time by up to 50% to enable EV driving and idle-shutoff after cold starts sooner.
Increasing the use of active grille shutters, which largely remain open during air-conditioning use, cold weather or higher engine coolant temperatures. Software revisions should allow them to close more often during those periods, enhancing aerodynamics during a larger chunk of driving time.
Ford dealers will perform the update, which the Detroit News notes applies to some 77,000 Ford and Lincoln hybrids already on the road, plus all 2014 models. Owners will be notified to have their cars updated for free, but EPA numbers on new Ford hybrids will remain the same, the newspaper reports.

Ford says shoppers bought 45,297 hybrids in the first half of 2013 — a group that includes the Fusion Hybrid, C-Max Hybrid and Lincoln MKZ Hybrid as well as the Fusion Energi and C-Max Energi plug-in hybrids. That's more than five times the number of hybrids sold in the first half of 2012, but it's well below hybrid leader Toyota. Through June, Toyota and its Lexus luxury division have sold 176,098 hybrids.

Still, Ford minced few words in targeting its Japanese rival. "Ford's share of the U.S. electrified vehicle market is up 12 share points to nearly 16 percent, while Toyota's share is down 8 share points, and more customers are trading in their Priuses for the new Ford C-Max Hybrid," the automaker said in a statement. The automaker also said it's adding nearly 50% to its EV-engineering ranks.

Related
Hybrid Mileage Lawsuit Hits Ford
Loopholes and Fuzzy Math: The Tangled Science of MPG Ratings
More Ford News