GM Quality Director Bullish on CUE, Multimedia Systems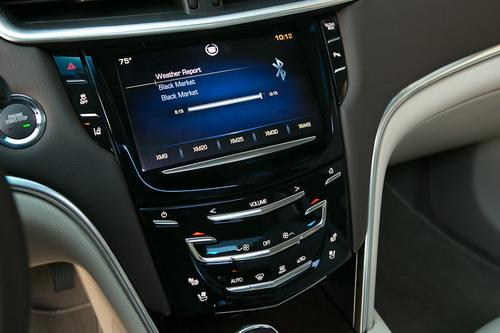 In two influential studies from J.D. Power and Associates, GM got both ends of the stick. The Detroit automaker finished strong in the firm's 2013 Initial Quality Study released in June, but it ranked midpack in the firm's Automotive Performance, Execution and Layout report a month later.
Mike Hardie pays a lot of attention to those studies. Hardie directs global quality strategy at GM, whose U.S. brands are Buick, Cadillac, Chevrolet and GMC. In IQS, some of GM's awarded products are its oldest: the soon-to-be-discontinued Chevrolet Avalanche, the outgoing Cadillac Escalade and the old GMC Sierra 1500. Tech-laden new Cadillacs, by contrast, earned no awards.
That may not mean older technology, particularly around the often-scrutinized multimedia system, is automatically better from a things-gone-wrong standpoint, Hardie said. He spoke with Cars.com earlier today.
"Simpler can excel, and I think quite honestly that pushes its way to new technology, as well," Hardie said. He pointed to the redesigned Chevrolet Impala, which nabbed Consumer Reports' top score among sedans on Thursday. The magazine called the Impala's multimedia system "refreshingly intuitive and easy to use."
Culprit No. 1: Voice Recognition
Our editors had
mixed opinions
with some of the Impala's multimedia controls. David Sargent, vice president of global automotive at J.D. Power, told reporters on June 19 that audio, navigation and entertainment systems accounted for 22% of reported problems across the industry in IQS, which measures issues over the first 90 days of new-car ownership.
The top culprit? Voice recognition.
"Voice recognition is by a margin the most frustrating, annoying, frequently reported problem that we see from consumers," Sargent said. "And when we read all of the comments they write about voice recognition … the hatred of poor performing voice-recognition systems is compelling."
Hardie conceded GM has things to work on with voice recognition. But, citing customer feedback, he argues the automaker is heading in the right direction.
"GM is caught doing something right for a change here on voice recognition," he said. "I'm not trying to say we don't have any problems. We certainly have issues. … But there's a lot of people who have nothing but good things to say."
Hardie's to-do list is plenty long. GM needs to "make sure the [voice-recognition] microphones pick up what the people say better, make sure the vehicles are quieter," he said. The automaker also needs to "make sure that we have better voice-recognition modules that understand accents better."
Defending CUE
That could improve GM's scores in J.D. Power's APEAL study. The study, which the firm released July 24, gauges customer appeal rather than dissatisfaction. But multimedia systems still drove scores down across the industry.
"Complexity creates issues with the ability to use [the systems], and that reduces your satisfaction," Mike VanNieuwkuyk, J.D. Power's executive director of global automotive, told us Tuesday. "It's very clear from consumers that they're very excited about a lot of what manufacturers are providing to them … but the execution of those functions may still be lacking."
Throw it all together and tech-heavy systems like GM's Cadillac User Experience — it trades physical dashboard controls for capacitive, touch-sensitive buttons — may risk scores across APEAL and IQS. Of the 121 award recipients and runners-up for both studies (all 2013 models), zero with CUE earned a nod.
To be fair only three were eligible. For 2013, CUE is optional on the ATS sedan and standard in the SRX SUV and XTS sedan. Next year, the redesigned CTS adds it. J.D. Power's Sargent said Cadillac "did have a few challenges" with CUE that influenced its IQS scores, and the brand finished 14th among 33 brands — better than average but below Chevrolet and GMC divisions.
"There's been several different software updates that we've done to the system — moving things around, making things simpler, trying to make the system work faster," Hardie conceded. "We had a program where we sent out letters to ATS and XTS [owners] and notified customers that they could come back in and get some updates done."
Still, he says CUE gets plenty of good feedback, and as capacitive systems go, our editors generally like the system.
"There are some growing pains as far as, you know, how do you get people to understand [the system]," he said. But "people really, really enjoy it. Some of the information that we do get from people, they say, 'Hey, I love the new and improved technology.' "
Related
GM Rises, Nissan Plummets in New J.D. Power Quality Study
Porsche, RAM Brands Top J.D. Power's 2013 APEAL Study
More GM News