Mercedes-Benz Is Luxury Car Thieves' Most Wanted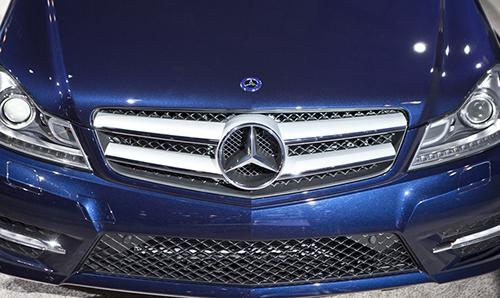 That Mercedes-Benz in your driveway might have turned the tables on the Joneses, who are now trying to keep up with you, but that envy doesn't end with your neighbors. According to a report released today by the National Insurance Crime Bureau, to steal a Mercedes-Benz is considered an honor among thieves. The German automaker's iconic three-pointed star adorns three of the top 10 most-stolen luxury models in the U.S., with the C-Class taking the No. 1 spot with 485 thefts from Jan. 1, 2009, through Dec. 31, 2012.
The Des Plaines, Ill.-based nonprofit's analysis divided the luxury-vehicle segment into three subclasses — compact, midsize and premium — with thefts across all three totaling 4,384 for the 2010-12 model years. The compact class accounted for the greatest portion of that total, with 2,150 thefts, followed by the midsize class' 1,734 thefts and the premium's 500. By state, the distribution of thefts largely correlates with population size: California lays claim to 1,063 of the total luxury thefts, the most, while South Dakota and Wyoming each had only one. By core-based statistical area, which includes a densely populated urban center and its surrounding areas, the New York-Northern New Jersey-Long Island area had the largest number of luxury thefts at 806, followed by Los Angeles-Long Beach-Santa Ana, Calif., with 491, and Miami-Fort Lauderdale-Pompano Beach, Fla., with 452.
NICB calculated a recovery rate for luxury vehicles of nearly 84%, leaving 713 unrecovered vehicles among the 4,384 total. Least-recovered among those was the Infiniti G series (83 unrecovered), followed by the Mercedes-Benz E-Class (80) and C-Class (78). Although the compact class had the most unrecovered vehicles, both it and the midsize class had unrecovered rates of less than 15% while the higher-value premium luxury vehicles went unrecovered more than 34% of the time.
"These are vehicles that are more likely to have been targeted by sophisticated organized theft rings which dismantle stolen vehicles for parts, VIN [vehicle identification number] switch them to resell to unsuspecting buyers, or export them to other countries," the NICB stated.
The top 10 most-stolen luxury vehicles, followed by the number of thefts, are:
1. Mercedes-Benz C-Class, 485
2. BMW 3 Series, 471
3. Infiniti G series, 405
4. Mercedes-Benz E-Class, 381
5. Cadillac CTS, 326
6. BMW 5 Series, 256
7. Lincoln MKZ, 226
8. Acura TSX, 190
9. Lexus IS, 177
10. Mercedes-Benz S-Class, 163
Related
Ford Escape Tops List of Most-Stolen SUVs
Honda Accord Still Most-Popular Car to Steal
Check Out Other Top 10 Lists on Cars.com