Apparently the U.S. isn't ready for a compact, upscale cargo vehicle. Mini spokeswoman Nathalie Bauters confirmed to Cars.com that the Clubvan will no longer be sold in the States. Wait, it was actually sold here? Yep. According to Bauters, just 50 units were sold before Mini pulled the plug.
We first saw the Clubvan — essentially a Clubman with body-colored rear side windows and no rear seats — in concept form at the 2012 Geneva International Motor Show. The production version used the brand's 121-horsepower, 1.6-liter four-cylinder engine and a six-speed manual or six-speed automatic transmission. Inside, the flat loading floor and side walls were trimmed in carpeting, and the cargo area featured two 12-volt outlets. An aluminum and stainless-steel partition behind the first row allowed for 30.3 cubic feet of cargo space.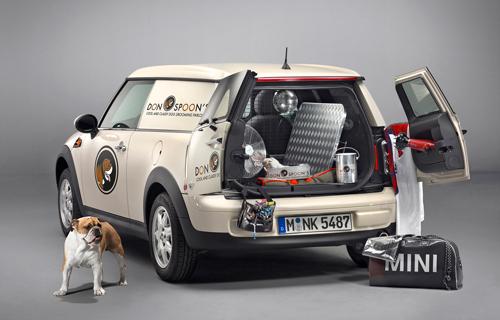 The van could carry up to 826 pounds of gear, which is much less than the
Ford Transit Connect's
1,600-pound capacity and 129.6 cubic feet of space. It was also pricey compared to its main rival. Production began in September 2012, and the 2013 model started at $25,985, including a $700 destination charge. The Clubman starts at $22,195 and the Transit Connect at $23,420; all prices include destination.
Price, Bauters told us, was one of the biggest issues. "Due to relatively low demand and the effect of an excessive 25% tax on [import] vehicles for commercial use (known as the 'Chicken Tax'), we have decided to no longer supply the Mini Clubvan," she said.
It will still be sold in other markets, however. "In contrast, sales of the Mini Clubvan have been strong in other Mini markets worldwide, many of which benefit from tax advantages," Bauters said.
Related
Mini Goes Commercial With New Concept
Research the Mini Clubman
More Mini News