Real World Fuel Economy: 2013 Toyota RAV4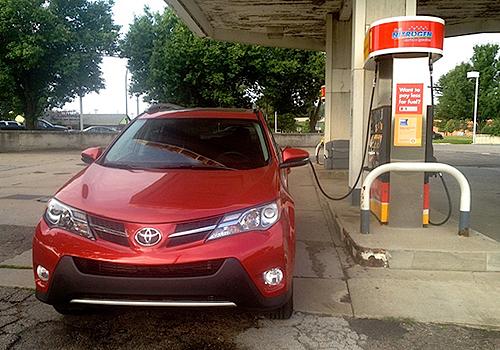 What's a more appropriate car to road trip to a Mercedes-Benz drive event than a 2013 Toyota RAV4?
The RAV4 XLE with all-wheel drive was a well-equipped "soft-roader" for the four-hour drive from Ann Arbor, Mich., to Toronto, but it's not exactly in the same ballpark as the new 2014 Mercedes S-Class I wrote about last week.
That doesn't mean I didn't get good use out of the roughly 250 miles of Canadian Highway 401 between me and the fourth largest city in North America. It seemed like a great opportunity to test for real-world highway fuel economy on this thoroughly redesigned compact crossover.
Equipped with a standard 2.5-liter four-cylinder engine making a rather docile 176 horsepower, combining this tepid truckster with one of the most boring highway stretches on the continent might not seem like a recipe for excitement. There's no fancy engine technology here — no direct injection, no turbochargers, no start-stop function, no hybrid anything. And for 2013, there's also no V-6 option; that's been discontinued in the name of better fuel economy, with Toyota saying it wasn't a big seller anyway.
Despite my lessened expectations, the RAV4 turned out to be a perfectly amenable partner for the trek. Seats are remarkably comfortable and handling is tight; the RAV4 is quiet, reasonably roomy and has excellent outward visibility. It drives well enough to overlook its cheapish interior plastic bits, archaic monochrome LCD gauges and completely outdated multimedia system featuring a touch-screen that's inexplicably dim regardless of how you adjust it.
Traffic was light both to and from Toronto, so I kept my speed along the highway to about 75 mph to keep up with the flow of traffic. This is a real-world fuel-economy test, not a hypermiling activity, so the goal wasn't to eke out the best fuel economy possible but to see what the RAV4 would deliver when driven normally. With temperatures in the mid-70s, no air conditioning was needed, and windows were open about halfway to provide comfortable cabin conditions. It's a good thing no air conditioning was needed: turn it on in the new RAV4 and a peppy, decently quick compact crossover turns into a doorstop, which is what the automotive industry calls "parasitic loss."
The all-wheel-drive 2013 RAV4 is EPA-rated at 22/29/25 mpg city/highway/combined. My own test consisted of two sections, from Ann Arbor to Toronto and back. The outbound leg covered 298.7 miles and consumed 11.3 gallons of gas, with an observed 26.43 mpg. The car's trip computer reported average fuel economy at 27.2 mpg.
The return trip covered 301.4 miles and consumed 10.68 gallons for an observed 28.21 mpg with the trip computer reporting 28.4 mpg. The combined average worked out to 600.1 miles covered using 21.98 gallons, with an observed fuel economy of 27.3 mpg.
This is a decent result for the style of driving and speeds traveled. While the RAV4 comes in below its EPA highway rating of 29 mpg, it was measured with a faster overall speed than what's used for EPA tests. The RAV4's fuel economy is rated about the same as many of its competitors in the recent 2013 $25,000 Compact SUV Shootout, but none of those crossovers had all-wheel drive like my RAV4 did. With all-wheel drive, the RAV4's gas mileage is comparable to competitors like the Ford Escape with the 1.6-liter EcoBoost four-cylinder engine and Honda CR-V with a 2.4-liter four-cylinder, which both get 22/30/25 mpg, but comes in just shy of the new segment-leading Mazda CX-5 and its more powerful 2.5-liter SkyActiv engine — 24/30/26 mpg with all-wheel drive — for 2014.
Related
2013 Toyota RAV4 Review
Cars.com 2013 $25,000 Compact SUV Shootout
IIHS: 2013 Toyota RAV4 Poor in Small Overlap Test