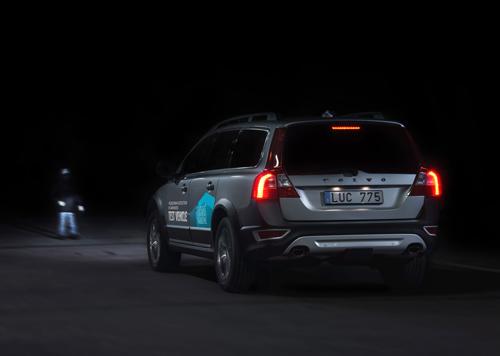 Volvo hasn't updated its largest SUV much since the
XC90's
debut for model-year 2003, but the automaker has some big changes planned for 2014 — and it hopes they will save lives.
"When the first XC90 was introduced in 2002, it featured a number of groundbreaking safety features, including a world-first solution that helps prevent rollovers. By revealing a number of systems for the next generation XC90 we once again confirm our leadership in automotive safety," Thomas Broberg, senior safety advisor for the Volvo Car Group, said in a statement.
When the redesigned XC90 goes on sale at the end of 2014 it'll include the first-ever application of some impressive new safety systems:
Pedestrian detection in darkness: Volvo's auto brake technology is updated to work in the dark. According to the automaker, the system includes detection and auto brake for other vehicles, pedestrians and cyclists.
Road edge and barrier detection with steer assist: This system detects if the car is about to drive off the road and automatically applies steering torque to correct its course. Volvo claims it also works on roads without side markings. "Being able to monitor where the physical road ends is a world first," the automaker said in a statement.
Adaptive cruise control with steer assist: The technology helps the driver stay in the lane and automatically follows the vehicle ahead.
Collision mitigation for animals: The system — which Volvo calls a world first — detects and automatically brakes for animals in daylight and darkness. It will join the options list after the SUV debuts.
The automaker is banking that the new safety systems will help it achieve a lofty goal. Last year Volvo announced that by 2020, no one will be killed or seriously injured in one of the automaker's new vehicles.
Related
Volvo Says Concept Finds Spot, Parks Itself
Volvo Testing New Safety Systems
Volvo Collision Prevention Found Effective