2013 Volkswagen CC: Family Checklist
A looker like the 2013 Volkswagen CC might not initially be considered a family car, especially with VW marketing it as a "midsize sports sedan," but it's a lot more practical than that. This five-seater offers a good-sized cargo area, an ample backseat and just enough luxuries to keep Mom and Dad happy without worrying about the wear and tear the kids will undoubtedly unleash.
It sounds shallow, but the CC wowed me with its good looks alone; few cars have ever looked that great sitting in my driveway. Fortunately, the CC had a lot more to offer my family of three, which made me feel a lot less ashamed of my priorities.
Despite its sleek styling, we didn't have any troubles when it came to loading our daughter in her child-safety seat. The two sets of lower Latch anchors were exposed between the seat cushions, making installation easy. Everyone had ample legroom, and due to the CC's low step-in height, our 2-year-old could enter and exit the car independently, too.
We took the CC on a weekend trip and had enough room in the 13.2-cubic-foot trunk for our daughter's stroller, portable crib and our luggage. While the CC's trunk was plenty roomy for our needs, its competitors manage to eke out more space. The Acura TSX sedan has a 14-cubic-foot trunk, and the Buick Regal comes in at 14.2.
The power sunshade in the rear window was especially great when my daughter fell asleep in her cat seat. When we hit traffic, the massaging driver's seat in my upgraded VR6 4Motion Executive model aided in alleviating any gridlock-induced stress, and both my husband and I kept our cool with standard ventilated front seats. Bonus: Due to the best cupholder design ever, both of us had room for our coffee drinks, and my smartphone wasn't displaced thanks to a perfectly sized cutout next to the cupholders.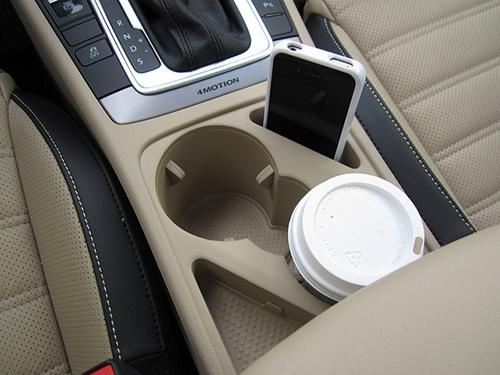 With the optional 280-horsepower, 3.6-liter V-6 engine, the CC delivered on the sporty feel it promised. I found the CC to be maneuverable even with its larger frame. However, I was shocked to find how low the car's mileage was, even with the 100-plus highway miles we'd logged. The V-6-powered CC with all-wheel drive gets an EPA-estimated 17/25/20 mpg city/highway/combined, but my observed fuel economy was just 17.6 mpg for the week. To add insult to injury, I had to fill up with premium unleaded gas, too. The four-cylinder CC gets a slightly better 22/31/25 mpg.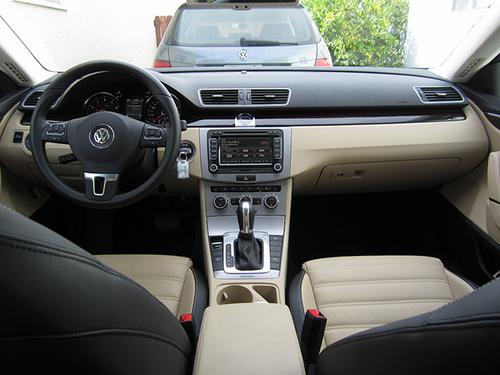 I was unimpressed with the CC's slow navigation system, and its voice commands only worked with the phone controls. However, the attractive two-toned leather and upscale ambient lighting helped me overlook the annoyances.
With as much as my family enjoyed the CC, we found our week in it to be too short. The CC's price tag might keep some families away; it starts at $31,370, including a destination charge, but once you start adding options and upgrades, you can wind up in the low $40,000s. With its quality materials and unexpected family-friendliness, you get what you pay for — if you can afford it.
Related
Research the 2013 Volkswagen CC
Style on a Budget? The 2013 Volkswagen CC Isn't It
More Family News