EPA to Update Procedures to Keep Up With Industry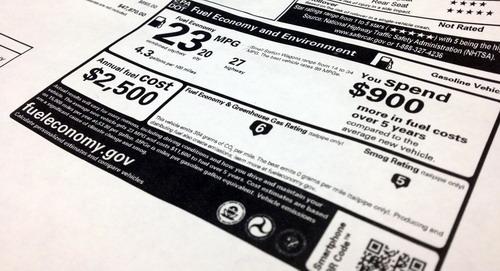 In the wake of Ford lowering the EPA combined city/highway mileage by 4 mpg for the 2013
C-Max Hybrid
, the EPA plans to hire some 40% more employees to audit gas mileage and revamp its rules on what needs to be tested.
Amid Complaints, Ford to Drop C-Max Hybrid to 43 MPG

Chris Grundler, who directs the EPA's Office of Transportation and Air Quality, told USA Today the agency will "update general-labeling regulations" — the crux of the issue for the C-Max rerating.
The EPA elaborated Thursday in a press release: "Developed in 1977, EPA label regulations allow, but do not require, vehicles with the same engine, transmission and weight class to use the same fuel economy label value data, since, historically, such vehicle families achieve nearly identical fuel economy performance." As we reported in a 2012 investigation, carmakers can voluntarily rerate cars — which, for example, Toyota does with its Prius variants, according to USA Today. But they don't have to.
The math doesn't work so well with certain hybrids, which pull out all the stops — from active grille shutters to ultra-low-friction drivetrain components — for ever-higher efficiency. That's what happened with Ford's C-Max, the EPA concedes. At issue are hybrid vehicle families, which can receive the same EPA numbers despite different body styles and aerodynamics. Today in the U.S., only two such families exist, Grundler told the newspaper: Toyota's Prius lineup and Ford's
Fusion Hybrid
and C-Max. As such hybrid families proliferate, the EPA expects to revise its fuel-economy procedures to address them.
Another issue: Automakers self-certify the EPA numbers for their cars, and the agency audits about only 15% of the cars tested. The additional hires — about 30 more workers, USA Today says — could increase that, but specifics remain to be seen. An EPA spokeswoman told us the agency is looking into it.
Editor's Note: The EPA later released a statement to Cars.com: "Over the last year, EPA has shifted additional resources into our compliance program to better oversee our programs. That has allowed us to better scrutinize manufacturers activities and to conduct a broader range of audit activities beyond dynamometer vehicle testing. While we do not disclose our precise audit rates, we believe this shift has enabled us to improve the effectiveness of our oversight."
Related
Ford to Reimburse C-Max Owners for MPG Discrepancy
Loopholes and Fuzzy Math: The Tangled Science of EPA Ratings
More Ford News