Gas Prices Down Ahead of Labor Day Weekend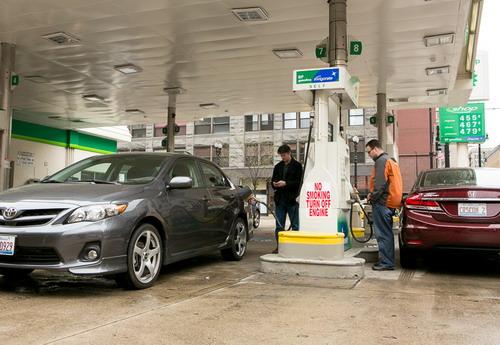 Heading into Labor Day weekend, gas prices have dropped 21 cents versus year-ago levels. A gallon of regular unleaded gasoline averaged $3.54 nationally on Tuesday, according to AAA. A year ago it was $3.75 — a record at the time as oil-refinery issues and the Gulf Coast's Hurricane Isaac tightened oil supply, AAA spokesman Michael Green said.
This year is a lot different.
"If you look at, for example, last week and year-ago comparisons based on supply and demand, [we] were up in demand a little more than 1%, but supply was up 8%," Green said. "There's plenty to meet most motorists' needs. There has not been a major Gulf Coast hurricane, and refineries have been running smoothly."
So go ahead and spring for that poolside motel room. But you might want to keep the TV on the news — and knock on wood for good measure. The supply-and-demand situation means fuel prices should begin to ease. But the Atlantic hurricane season, which poses the biggest threat to Gulf Coast refineries, is only about halfway through. And the specter of a military strike in Syria threatens oil production in the ever-tenuous Middle East. Add it all together, and pump prices have slid some but not a lot.
"Syria is not a producer of oil," Green said. "There are no shipments that go through Syria. What people should be concerned about are the ramifications for the rest of the Middle East if U.S. strikes cause increased turmoil."
He pointed to Egypt, where a military coup ousted President Mohammed Morsi on July 3. Egyptian oil production is scant, yet the uprising sent West Texas Intermediate crude oil — one of two benchmarks for how much you pay at the pump — past $100 a barrel. Gas prices followed, rising 19 cents between July 8 and July 22, according to the Energy Information Administration.
At least drivers have seen some recent relief. WTI remains beyond the $100 mark, but gas prices have subsided through late July and August. Between July 22 and Aug. 26, a gallon of regular unleaded fell 13 cents per gallon, EIA data shows.
Will retailers crank up prices because of increased holiday traffic? After all, AAA predicts Labor Day travel will increase 4.2% over 2012's figures, with 34.1 million Americans traveling between Aug. 29 and Sept. 2. And the agency says 85% of them, or 29.2 million Americans, will drive at least 50 miles.
Don't lose sleep over it, Green said. "The popular perception is that gas stations will raise rates going into a major holiday, but that's often not the case," he said. "If you look at July 4 this year, for example, a major holiday that we track, gas prices dropped 21 days in a row for a total of 16 cents per gallon heading into the holiday. For Memorial Day this year, they dropped five days in a row for 3 cents per gallon."
Related
Increase Expected in Labor Day Travelers, Traffic Deaths
Road Trip Sightseeing Trips
More Automotive News