Infiniti Q50 and G37 to Share Spot in Lineup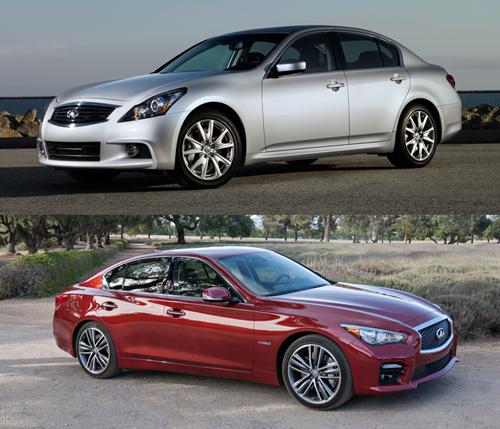 If you thought the Infiniti brand's
name-plate change-up
couldn't get any more confusing, just wait. The automaker announced that the first car to wear Infiniti's new alphabet structure,
the Q50
, will be sold alongside the car it was supposed to replace,
the G37
.
The G37 sedan will be sold until the middle of 2015, Infiniti said, and prices will be adjusted to reflect its place below the Q50 in the lineup. The move "creates room to strategically offer the repositioned G37 at the lower end of the near-luxury segment in addition to the higher-positioned Q50. The two vehicles aim at different market segments and allow us to serve different customer needs," Infiniti Americas Vice President Ben Poore said in a statement.
The G37 sedans will only be available in Journey and all-wheel-drive trims. But some major price shuffling was needed to make this work. Prior to this announcement, the 2014 Q50 ($37,605) started slightly less than the 2013 G37 Journey ($38,255), but today's new pricing discounts the G37 by quite a bit. The rear-wheel-drive G37 Journey now starts at $33,455 and $35,055 with all-wheel drive (all prices include a $905 destination fee).
Related
Research the 2014 Infiniti Q50
Research the 2013 Infiniti G37
More Infiniti News