Recall Alert: 2014 Nissan Versa Note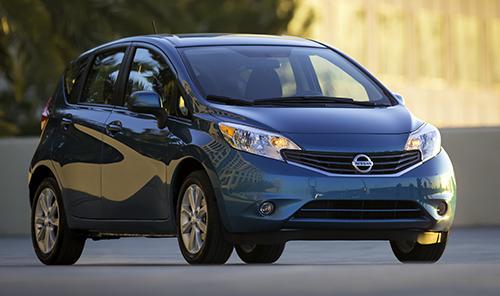 Nissan is recalling nearly 13,000 model-year 2014 Versa Note subcompact hatchbacks due to weak, loose or missing bolts that could result in injury to backseat passengers or reduced crash performance, the Detroit News reported.
The affected vehicles were manufactured before July 5 in Mexico and distributed mainly in North America, according to the newspaper. Bolts holding the rear seatback latches may not be strong enough, increasing the risk of injury for backseat passengers in a crash. Other bolts securing the body to the undercarriage may not have been tightened enough, or they could be missing in some cases, weakening the car's rear-crash performance; Nissan stated that it is unaware of injuries or accidents related to the bolt issue.
Nissan will notify owners starting in mid-August, and dealers will check the bolts and fix or replace them for free, the newspaper reported. Owners can call Nissan at 800-647-7261 or the National Highway Traffic Safety Administration's vehicle-safety hotline at 888-327-4236, or go to www.safercar.gov, for more info.
Related

Nissan Recalls Versa Note Hatchback to Fix Bolts
(Detroit News)

2014 Nissan Versa Note: First Drive

Check out Other Recalls on Cars.com